How to make money from your audience with this easy-to-implement program
Dear Future Marketing Affiliate,
Do you have an audience or following with email addresses who might be interested in gardening topics? As we've discovered, GreenPrints fans can come from many places—crafting, cooking, do-it-yourself (DIY) projects, health and nutrition, and of course gardening-focused lists … plus, loads of other sources where the demographics match.
Does your list fit the bill? Do you think your audience would be interested in downloading a GreenPrints freebie, for reading enjoyment and inspiration? If you think it's even possible that your list is interested, we'll pay you for every lead you generate for GreenPrints when people on your list download one of our freebies.
Whether you have a blog or a full-blown e-commerce website, you can further monetize your audience right now by signing up for the GreenPrints Freebie Affiliate Marketing Program.
What is GreenPrints?
Let's start with the basics, to be sure that this Freebie Affiliate Marketing Program is well aligned with your audience.
GreenPrints is a one-of-a-kind brand that binds and unites gardeners about the ways of the world, including gardening, and how it all deeply affects us in the most personal ways. Filled with wonderful stories, poems, tales, parables, anecdotes, and delightful and original art, GreenPrints shares the joy, the humor, the headaches, and the heart of gardening—all in fun and connecting ways.
After years of producing how-to gardening content—instructing readers about how to plant and prune and tend—Founding Editor Pat Stone established GreenPrints in 1990 as a way to celebrate the joys, the feelings, and the experiences of gardening—the real heart and soul of gardening. Not to instruct. Not to preach. But to share.
And now GreenPrints is a full multiplatform publishing enterprise that embraces the sense of community that all gardeners share—complete with a variety of digital products, including a monthly magazine, premium digital collections, freebies, and daily content that inspires and motivates.
The GreenPrints Freebie Affiliate Marketing Program is specifically designed for busy publishers and marketers who want to generate additional revenue from their audiences—without devaluing or diminishing existing customer relationships.
As long as you qualify, being an affiliate with GreenPrints can deliver you regular additional revenue for very little work on your part. You see, we do most of the work to craft an email message for your audience—offering one of our freebies: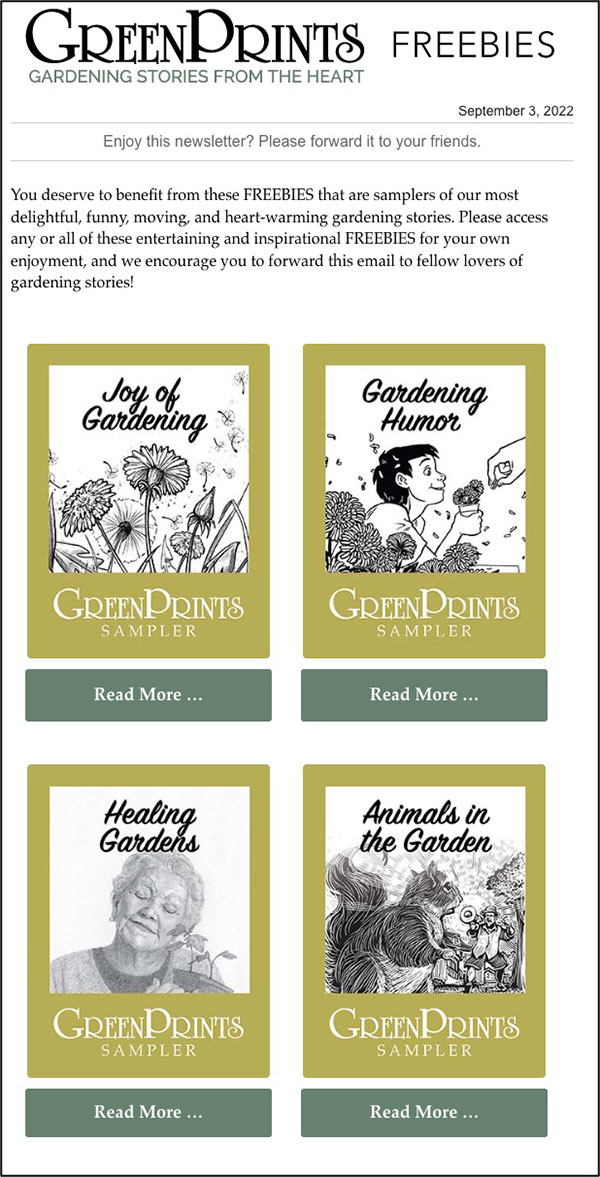 Because we're not trying to sell something to your audience, this program is a great fit for many publishers and marketers. In fact, some consider it a service to make valuable free offerings to their audiences—free downloads that are not far afield as a topic of interest.
Gardening is a wide-spread interest, and it's growing. The GreenPrints Freebie Affiliate Marketing Program is a great way for you to make money, save time, and deliver value to your audience!
We will pay you $1 for every name from your audience who downloads one of our freebies—when you're an affiliate, the GreenPrints Freebie Affiliate Marketing Program will send you a monthly commission check. You can't beat that!
What do you have to do to become an affiliate and start receiving monthly commission checks?
Fill out the Application Form now to get qualified for the GreenPrints Freebie Affiliate Marketing Program. Once you're accepted into the program, here is how it works:
We'll schedule a time with you to review the program details.
Working with you, we'll decide which GreenPrints freebie is best to start the program with your audience.
We will create the email, promoting the freebie, with copy and images—including subject line, email pre-header text, and links for downloading the freebie.
We will assign you a unique source code, so that everyone who clicks from one of your email sends is tracked to your list—and so that we know to pay you for every lead landed by GreenPrints.
You'll need to load the email and schedule the send to your audience—we're available to help you plan the best time to mail and for quality assurance of your loaded test email.
After you send the freebie promotion, all you have to do is sit back and wait for your commission check!
Please check out all the GreenPrints freebies we have to offer, by clicking here.
And one of the best things about the GreenPrints Freebie Affiliate Marketing Program: It's repeatable and can become a regular source of monthly revenue for you!
Where Do I Sign Up for the GreenPrints Freebie Affiliate Marketing Program?
This is the easy part—just click here to complete the Application Form for becoming an affiliate with GreenPrints. After submitting your application, we'll get back to you right away.
Please don't let this opportunity pass you by!
Looking forward to hearing from you,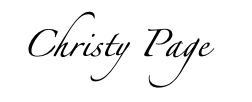 Christy Page
Sponsorship & Operations Director
GreenPrints
P.S. Please take a few moments to think about this revenue-generating opportunity for you—and click here to apply for becoming our newest affiliate!