ILLUSTRATIONS BY HEATHER GRAHAM
IIn the photo, a little boy barely one year old is staring out a window at his first snowfall. The brilliant shine from the white outside highlights his red-blond hair, painting the illusion of a halo on the tiny angel. A woman bends over him. Her hair is gray, and her profile is one I know well: my mother. Her hand rests lovingly on the little boy's head, and her expression of wonder reflects his own. But she's not excited about the snow. She's excited about him.
It was my son's first Christmas away from our home in California. We had flown back for the holiday to my native Ohio, and my mom, who had all but given up on me ever having a baby, was constantly in awe of the little miracle of Noel, my son. She was the perfect grandma, as she was the perfect mother: a woman for whom this job was the pinnacle of life.
Christmas is the day above all days that I remember her.
I used to resent this. I used to think, why didn't she ever do anything with her life? How could she just want to be a wife and a mother? How could she be content with watering her flowers, violets, and marigolds, and making afghans out of colored yarn? I was convinced my dad had talked her into it. But when I saw her looking at Noel, I realized something important: it was a choice she made, and a choice with which she was well satisfied.
I was always the one in the family who was going to do things. I wanted to be a writer, to get away from Ohio and go some place where things were happening and books were important. I knew so much then. I knew that my little hometown was a backwater with no discernible culture and that my parents were nice people who didn't know very much. The deep faith they held in God and in the basic goodness of people was just a sham, the opiate of the people I had learned about in college. I moved out just in time, before I could get sucked into that stupid contentment that comes with living in one place your whole life.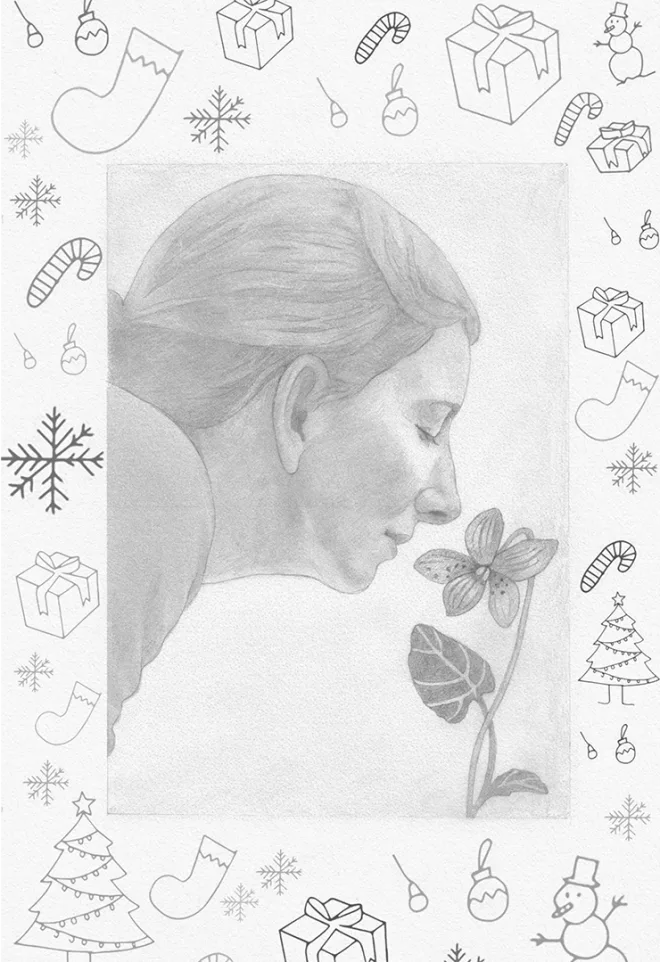 When my mom went to the store, she always saw somebody she knew. The same lady had cut her hair for nearly 40 years, and she had been baptized by the same priest who eventually said her funeral mass. Her sisters, her mother, and her father almost all lived nearby. It wasn't until much later in life when I saw Jimmy Stewart run through the snowy streets of Bedford Falls that I started to appreciate the joy and contentment of sameness.
As a teenager, I didn't see the value of this, of course. I saw boring old buildings where there was history. I saw naiveté where there was wisdom, and I saw nothing in a treasure chest that was filled to bursting with gold. I had chosen, at a young age, to leave all of that, and as they say, you can never go home again.
Christmas with my family had been full of its own peculiar traditions: Mom putting little elf footprints in the windowsill to convince us that Santa had, indeed, received our letters, or the jangling of a sleigh's bell-laden harness every year at midnight on Christmas Eve, a harness she swore was captured by my grandfather one year when he caught St. Nick on the roof. The old stories were recounted every year, taken out like favorite toys.
Last year, Christmas was at my sister's, the one who lived a mile from my parents' trailer. On that day, dusted with sparkling snow and occasional sledders, the view out their front bay window looked like a Currier & Ives painting. The house was filled with the smells of roast turkey, pies, cinnamon, and bread. The kids drew shapes in the steamy windows, and my sister's oversized dog licked every face it could reach. When we met in the great room to open presents, we all had to take turns, just as we did when I was a kid. Everybody opened one present, then showed it to everyone else and exclaimed about how great it was, even if it was yet another pair of slippers or a necktie with cows on it or even, as was the case with my nephew, a pirate costume that was appropriated by his daddy, who walked around with a hook hand all day trying to spear cookies off people's plates.
CChristmastime is here again, one year later. This is the first one without her, and I'm back in surreal California, where the Santas wear Hawaiian shirts and ride surfboards instead of sleighs. Although there's joy in the day and because Noel is so happy about his first set of real drums, there is a small, dark place I keep hidden. This is the place where I keep my grief, my sadness, and my sense of loss, a void that cannot be filled.
I wake early on this Christmas, before everyone else, just as she used to do. In the sparkle of the tree's lights, I think about her, and about how much she would have loved the expression on Noel's face when he sees the drums he had asked Santa for. Sip-ping coffee in the dimness of my silent living room, I wait, as she used to do, for my child to awaken and bring the house to life. A tear slips down my cheek as I recall all the care and love she put into making each Christmas special for me and my sisters.
After an amazing morning of presents, music, and food, my little family and I are all resting. I look outside at my little patio. Jasmine plants snake up into the white lattice, but in our San Diego weather, they are dry, so I decide I should water them. My mother never would have let any plant in her garden go dry, I think. This reminds me of the day of her funeral in June, when we got to my parents' house and I noticed several times that Mom's beloved marigolds and violets were parched. I forgot to water them. That night, I woke to a raging thunderstorm that dumped inches of water onto the yard. I had apologized to her for not remembering to water, but as usual, she took care of it herself. I had sat on the closed-in porch that dark morning, watching the rivulets of water streaming from the streetlight, onto the sidewalks, into reflecting pools. I had wrapped her blue fleece robe around me, huddled into a chair, and cried with the rain.
TThat was six months ago. People understand grief when it's fresh, but as months go by, those who've never experienced it figure you should have gotten over it already, like a nasty bout of the flu. Those who have experienced it know that you never get over it. There is only a tamed coexistence. Any small thing can trigger it. On Christmas, it's worse. It is the day above all days that I remember her, remember her care and love and the joy she drew from being a mother.
I decide to water my plants. I go outside, extricate the hose from its embrace of weeds, and aim it at the poor, dry jasmine pots, which soak up the moisture gratefully. A few flowers are actually blooming in the side garden under our eternally fruit-bearing orange tree. It is, after all, Southern California, and things bloom all year long, something my mother loved. A few African daisies peek out from the dense greenery (I haven't weeded anything in months.) The lavender I planted is brittle and dead. The Mexican primrose is hanging on, but not blooming since I haven't watered this side garden for a while either. A small purple flower catches my eye, and when I see the leaves, my breath catches in my throat.
Violets.
No, it can't be. But upon closer inspection, I note that, indeed, they are violets. The leaves are juicy green hearts, and the flowers have the distinct five-petaled shape of the little flowers. I bend down to smell them—the fresh, old-fashioned scent I remember so well—and I immediately think of my mother. Violets were her favorite flower.
I pick one and take it to my mother-in-law, who was born and raised in Ohio and moved to San Diego in the '50s. "It's a violet!" she exclaims when I show it to her. "Where did you get it?" I told her it was from my garden. "No," she shakes her head. "They don't grow here. I've never seen one in San Diego."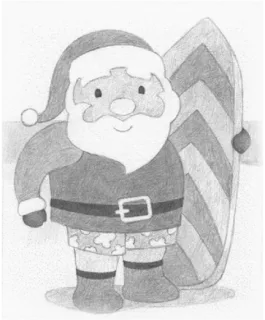 After doing a bit of research later, I find that one type of violet will grow here. It's described as being violet carmine, has an old-fashioned scent, and is called Noeli, which just happens to be my nickname for my little son. Once again, my mom has managed to find the perfect gift, to do the perfect thing, and to remind me that the small things, not the large, are the things that stay with us, like the scent of a violet carmine on a California Christmas morning. ❖