ILLUSTRATIONS BY HEATHER GRAHAM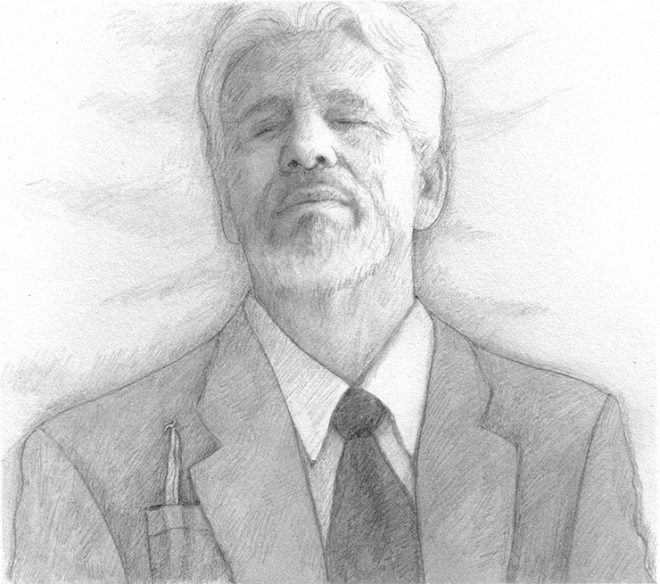 TTo some, Summer means late afternoon cookouts, to others, family vacations. For me, Summer beckons memories of a garden bounty—and how we buried my father with a green bean in his pocket.
Growing things was Dad's avocation, a labor of love that extended through his lifetime. Not a patient man by nature, he nurtured seedlings and beamed at their leafy offspring like a proud parent in a newborn nursery. If a row of his favorite Kentucky Wonder pole beans was good, well then, an acre was better.
Post-retirement, he sometimes said, "I raise a garden because a man can't hunt, fish, and play cards all the time," but he generally treated gardening with a degree of gravitas. Born into the Great Depression, Dad seemed to equate a person's moral fortitude and success in life with their agricultural aptitude. In his estimate, you could have the business savvy of Bill Gates, but if you couldn't raise a decent garden, you didn't know much.
Unexpectedly, his eyes flew open. We were stunned.
Several years ago, between the planting and the beginning harvest, Dad was diagnosed with an inoperable brain tumor. He said that he didn't think he'd live long enough to see his green beans come in. Yet filled with a lifetime of faith and habit, on the day he came from home the hospital, he went to his garden and started his tiller.
AA few weeks later, Dad took a turn for the worse. Friends and family gathered, and for hours we kept a round-the-clock bedside vigil as Dad lay motionless, with his eyes clamped tight, not responding to our voices or our touch.
My sister took a respite walk to the garden. She returned carrying something and said, "I was just over in the garden and I found a green bean." Those words somehow found their way deep inside Dad's consciousness and, unexpectedly, his eyes flew open. We were stunned. Just moments before, his face was almost frozen, but now he nodded an enthusiastic "Yes!" He broke into a smile and his bushy brows and blue eyes conveyed the joy that his voice could not: "Hey, look at that! They're in! They made it!"
We celebrated the moment and put a slender young bean pod in his bearpaw-sized hand. He grasped it, still smiling, absorbing its new life and all that it represented to him. Dad soon closed his eyes again, but he held onto that bean for the remaining 36 hours of his life, as it sustained him, and us, with the knowledge that he had, indeed, seen his garden come in for one last harvest.
We buried Dad out of character—wearing his best, and only, suit. But in place of a traditional handkerchief in his breast pocket, we placed the green bean.
We think he would be pleased. ❖