ILLUSTRATIONS BY TIM FOLEY
SSt. Patrick's Day had come and gone, and my peas were in the ground. Still in the ground. Not a one had sprouted—and I'd planted them two weeks ago. That day, I'd first done the usual soil preparation with the help of my not-really-a-gardener husband, Michael.
Now we were prepping the section next to the pea row. Michael's shovel hit an object in the soil. "What do we have here?" he said. I could see it was the side of a black plastic nursery pot, nothing all that unusual, so I continued uprooting the mint that was spreading nearby. At least unearthing that would be a project he could sink his teeth—I mean, spade—into. Sure enough, Michael persisted like a fox-seeking hound. A half hour later and a foot deeper, he pulled out his treasure: a pot measuring around 7-8 inches in diameter absent its bottom.
Finally, he's done, I thought and began loosely pushing the soil he'd displaced back into the hole. I was trying to protect my slow sprouting sugar snap peas, a new variety for me that would grow in vines. I had a trellis already in place against the back wall of the house, just waiting for the peas to germinate.
Next, we installed our old, aboveground irrigation system—a necessity for a high-desert garden. It came down from the faucet at the back wall of the house, where we had conveniently located our garden to capture New Mexico's cooler morning sun.
TThe following day I ran the system for an hour in the early morning. My peas hadn't germinated. I decided that I'd better reseed them. I put on my garden shoes and walked gingerly among the two rows seeded with lettuce, spinach, carrots, and radishes. The ground was well moistened (good!), but not soggy.
I walked to the trellis where I'd planted the peas and, seed packet in hand, began to kneel. Suddenly my right foot began sinking—down, down, down—into the spot where the old plastic pot had been! Apparently, irrigation water had accumulated in that loose soil.
"How did you manage to get a sinkhole here in the New Mexico desert?"
"Yikes!" I yelled. Michael quickly came to the patio door and held up the newspaper. "For goodness sake," he called out, "what's going on? I haven't even had a chance to read one page since you walked out there!"
Then he saw me, crouched on one knee, my foot, ankle, and half my calf sunk in the squishy hole. I tried pulling my foot out. No dice. I couldn't move.
My husband—my dear, dear husband—came right out to the garden to rescue his captured spouse. "How did you manage to get a sinkhole here in the New Mexico desert?" he marveled.
Stuck in place, I looked down under the trellis—and saw tiny green pea shoots!
"Michael! Look!" I cried. "The sugar snap peas have germinated after all!" ❖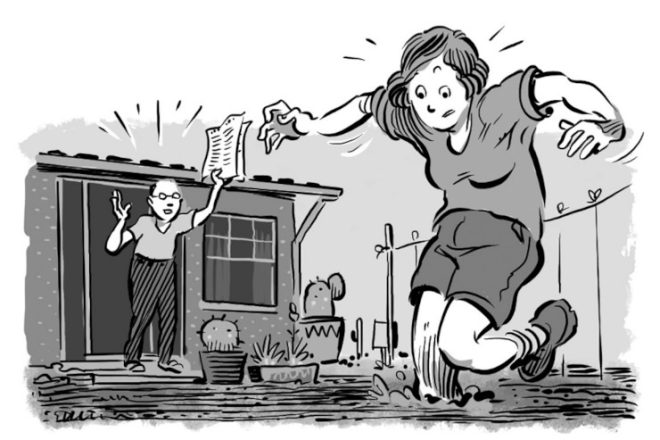 This article was published originally in 2023, in GreenPrints Issue #133.