ILLUSTRATION BY LINDA COOK DEVONA
MMy dad grew a vegetable garden in our backyard—a tiny one in a rocky, almost hidden corner behind the garage. He spent a lot of hours alone down there, digging, planting, weeding. Once in a while, there'd be a few, maybe small, ears of fresh corn on the dinner table, Dad smiling as he served them, as proud of them as his shot-filled quail or dove.
I didn't get it. Actually, I hardly even noticed it. I was a teenager, busy thinking about girls, basketball, girls, homework, and girls. When I did pay any attention to his gardening, it was only to wonder why.
Dad was a doctor at a big Atlanta hospital, a busy, hard-working man. After dinner, he'd sit back in his lounge chair in front of the TV and fall asleep. On weekends, he'd hunt, fish, golf, and socialize. I never even figured out how he found time to garden, much less why he did it.
I don't remember ever offering to go down and help him. My older brother and sister? Didn't see them down there, either.
Ten years later, I discovered gardening for myself. In an even tinier yard in Philadelphia. I set out some eggplant starts. To my surprise, they grew. From then on, so did I.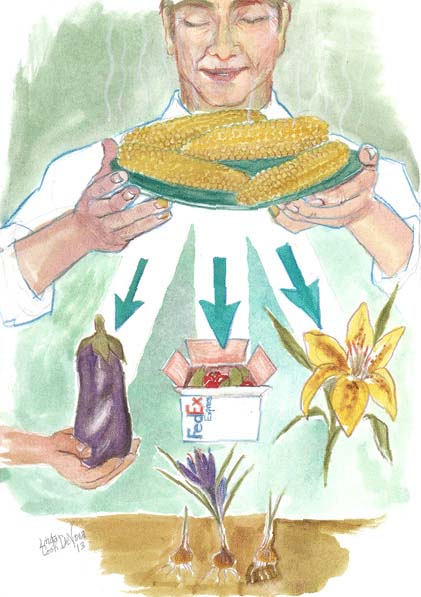 My sister, meanwhile, was living in St. Petersburg. Washington. New Orleans. New York. A whirlwind business consultant, she helped retail companies find new outlets in ritzy shopping malls. A few years ago, though, she decided to move out to horse country in Virginia and commute to her clients. There, she started her first vegetable garden. That July, my parents got a package from Virginia. Overnight mail. It contained tomatoes, zucchini, lettuce. Fed-Exed zucchini?!
My brother, an investment banker in Manhattan, rode high on the buyout merger frenzy of the 80s. He lives in a sixth-floor apartment off Central Park. The whole sixth floor. Then he bought a Summer house out on Long Island. I went for a visit and helped him clear brush, put up a fence, turn earth. He grew a vegetable or two, then became a passionate ornamental grower. Roses. Lilies. Perennials.
Dad died a few years later. After the burial, we all went back to Mom's new home and planted bulbs around the pine trees. Crocuses and jonquils. The hard, round embryos lay dormant in the ground for months, then bloomed blue, white, and yellow the next Spring.
Dad would've had the patience to wait for those blooms. Easily. He knew that some things gardeners plant can take much, much longer to sprout. ❖
This article was published originally in 2023, in GreenPrints Issue #135.