ILLUSTRATIONS BY CHELSEA PETERS
II've often wondered how my father developed his gardening expertise. Born and raised in the East End of London, Cyril was a true Cockney and was surely more familiar with digging an Anderson Shelter to escape the bombs of World War II than planting roses. And yet, when he and his young family moved to the rural outskirts of London, he began gardening—and never stopped.
The house already had a huge back garden that looked out on playing fields and an old farm, but the front yard was a challenging grass slope that dropped steeply from the road to the house. I remember, at age 2, gleefully rolling down the slope with my 5-year-old brother.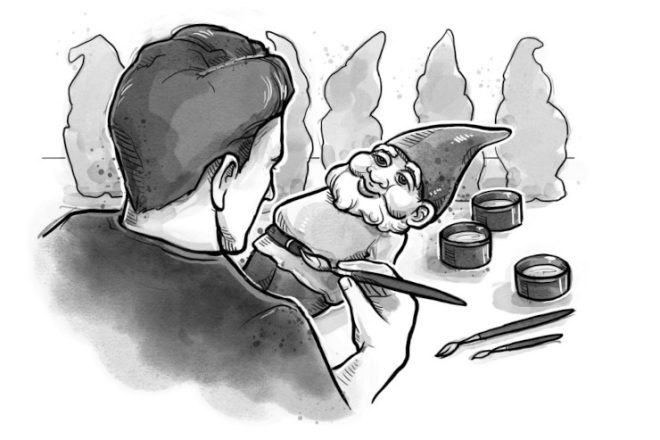 Not for long. My father set about building a level space, digging into the hill and creating a raised terrace with a retaining wall of beautiful rocks. The terrace was then "crazy-paved"—laid out with paving stone scraps rescued from building sites. "They were just broken bits," Cyril reasoned. "Builders wouldn't be able to use them." That he rescued them after dark was not ever discussed.
The front garden was renamed The Rockery. It soon had huge sedums to attract butterflies and rock plants thriving in all the nooks and crannies of the retaining wall. My favorites were the delicate saxifraga "London Pride" and cascading Basket of Gold (alyssum) and Candytuft (iberis).
Roses were planted in the small beds amid the crazy paving—and in the center, Cyril built an ornamental wishing well. How? I wonder now. It was a round concrete structure with a hollowedout interior painted blue, of course, while its outside walls were painted red and white for "bricks." It was topped with an iconic peaked wooden roof. A wishing well, sans water.
Dad was the original English dorky gardener who loved, loved, loved his gnomes.
And then came the gnomes. Yes, Cyril was the original English dorky gardener who loved, loved, loved his gnomes. I thought of him when I saw the movie, "The Full Monty"—in particular, the scene where the guys buy their friend something to replace the gnome they'd broken … for "A feature, like." This was a feature, all right. I remember Dad's delight when he would spy little children peering over the privet hedge at the world he'd created—mouths agape, looking into a magical fairyland.
Cyril's gnomes were not the resin type you see now. No, these were sturdy concrete folk of various sizes and occupations. One was perched on a swing suspended from a little wooden frame. One sat on the edge of the well with a fishing pole. Two were riding on a seesaw, having a lovely time judging by their smiles. And one big fat fellow, three times the size of the others, sat beneath a rose smoking his pipe. Every Spring Cyril would bring the gnomes out of the shed and carefully repaint their little red hats and spiffy waistcoats. "Dad and his gnomes … " my brother and I would say, shaking our heads whenever we'd pass by. But we smiled as we did so.
TThe back— gnome-free—garden was spectacular. Crispedged, velvety lawn surrounded a huge center bed and flanked semi-circular beds along the borders. Our next-door neighbors, cranky people who criticized freely, snarked about the foolishness of digging up all those cabbages and planting roses, but to my parents, the war—and its privations—was over. It was time to plant the roses. Both my mum and dad loved to garden and regularly won prizes from the county council. (And they still grew veggies and fruit, just not in that part of the garden.)
Dad's next big project was to create a water feature at the bottom of the back garden. He dug a hole and procured an old, galvanized hip bath. He beat it into submission until it was vaguely kidney-shaped and sunk it into the hole. All the technical stuff—liners and pumps and all—were installed. Water lilies were planted, a waterfall created, and then came the fish. I remember we all went to an ornamental garden shop to purchase beautiful fish and returned home to release them in our pond. Baby frogs found their way from the river by the farmhouse, tiny creatures I treated as pets. Who needed fairies?
And our cat? He would sit on the boulders surrounding the pond, gazing at those glints of gold gliding just beneath the surface. It was only a matter of time, right?
Sure enough, one day I came home from school and found Dad on his hands and knees, bending over something in his hands.
"Cat got the fish!" he cried, and then bent his head again.
I looked closely and realized Dad was holding a limp carp in his hands and blowing gently into its mouth. He was trying to give the fish mouth-to-mouth resuscitation!
"Dad," I said. "It's a fish. They breathe through their gills."
He nodded, bowed his head briefly, and laid the fish back in his bucket. Feeling the sting of my words, I laid a hand on his shoulder. "I'm sorry, Dad."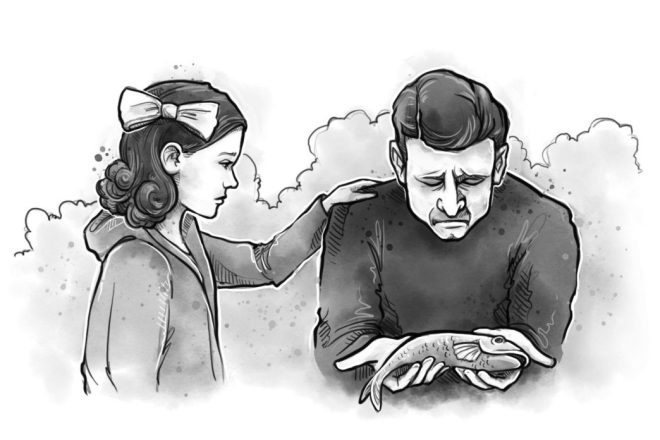 The fish was buried (or perhaps flushed). He installed netting beneath the surface of the pond, and that solved the cat problem.
AAfter I left home for my au pair adventure in America, Dad's health deteriorated. But he still gardened, often with an iconic English robin sitting on his shovel handle to keep him company
Dad died in 1994, some 30 years after trying to rescue that fish. A few weeks afterwards, I was sitting in my new screened gazebo, enjoying the peace and gazing at my garden, wishing he had lived to see this garden after he had helped me plant so many before it. That's when I noticed there was a spill on the screen from when the gazebo had been stained. I was contemplating how to remove it when I heard my father's voice, plain as day, Cockney accent and all:
"Bit of white spirit will get that off, Margaret."
"OK … " I said slowly, turning my head and expecting to see him sitting in the wicker chair opposite me. I didn't even know what white spirit was, but I knew my dad's voice when I heard it. "Uh, thanks, Dad."
I still marvel at where Cyril found his gardening expertise, but I know the seeds of my dad's creations were planted in my mind and in my hands, to be turned into my own garden foolishness in years to come. Would that he could be here to see it.
Then again, it seems that he is. ❖
This article was published originally in 2023, in GreenPrints Issue #133.