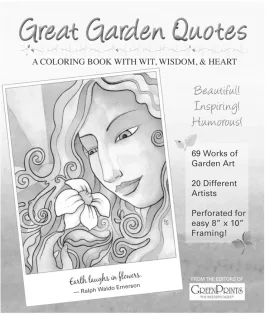 Yep, that's what Pat Stone says about it. (Hey, that's me! Let's switch to writing in the first person, shall we—uh, I?)
How can I make the claim above? First, because Great Garden Quotes (subtitled "A Coloring Book With Wit, Wisdom, & Heart") is about gardening—the most beautiful, fun, and inspiring outdoor activity of all (as every gardener knows). And second, because the art and quotes in it have been collected over 26 years for this magazine! The drawings were created by an array of talented illustrators from all over North America, including many whose work graces this issue.
The three art-and-quote pages in this issue (to your right, "Pernicious Machineries" on p. 47, and "Take Care of Yourself" on p. 83) are all in Great Garden Quotes—as well as 66 other inspiring works of garden art, ready to be colored and even framed!
To enjoy them all, order Great Garden Quotes for $14.95 plus $3.00 s&h from GreenPrints Books (see p. 6), on the web at www.greenprints.com, or by phone at 800-569-0602. And don't forget: It's a great gardener's holiday gift!