ILLUSTRATION BY JEFF CROSBY
Sometimes it's the little things. All right, a lot of the time it is the little things …
This morning, I was in the bathroom trying to get my seven-year-old ready for school and my three-year-old just plain ready. It was the usual chaos: "Why do I have to brush my teeth? I did it last night!" "No! Not like that! Make my hair look just like Superman's!"
In the midst of all this, I suddenly saw out the window the most spectacular array of icicles that had formed overnight on the branches of a large juniper.
Not everything in life gives us a second chance.
As an avid gardener, my very first thought was, "Hey, I have to go knock down those icicles before they damage the branches." As a busy single mother, I figured I would have to squeeze that in after I took the kids to school and went to the supermarket, but before I did the bank and rushed off to my day job. But then the kids noticed what I was looking at. For a few special moments there, all three of us just looked and wondered at what nature had made while we slept.
That got me thinking. You know, I don't care if I lose a branch or two. Those icicles are just too marvelous to destroy. And I don't care that there are Fruit Loops on my kitchen floor, because watching my three-year-old son trying to balance them on the dog's nose was too funny to pass up. In the grand scheme of life, I won't recall that I had Fruit Loops on the floor, but I will recall with great pleasure and warmth the sound of a three-year-old's laughter filling the room on a cold winter morning.
I once read an article written by a mother who said, "If I had known it would be the last time my son nursed, or the last time he would need me to help him tie his shoes, or the last time he wasn't embarrassed to kiss me in front of his friends, I would have paid more attention." Truer words have never been spoken. I don't want to miss a minute of this wonderful time of my life, when my kids are small and I am young enough to enjoy them to the fullest. I don't want to miss that because I felt it was more important to scrub a floor. I am a Type-A personality. It is difficult not to break the icicles, sweep the floor, and miss the point altogether. But I am trying.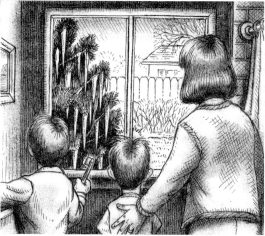 I understand this when I garden. When I garden, I derive pleasure from the littlest things. It's not just the spectacular bloom that makes me happy. It's the feel of soil that has just begun to warm up in the spring. It's the smell of fresh earth and the way my jeans get wet from kneeling on the ground. It's the way I feel when my boys find me a dandelion and are excited because it's the "first flower" of the day. I get pleasure watching a tiny sprout struggle up and a bud unfurl. And yet, I am sad to say, I sometimes miss the unfurling of those I hold dearest to my heart.
So this year my New Year's resolution is to not let life go by me while I am making plans and handling the details. I will not worry over the cereal on the floor or the mud in the rug or the matchbox cars in the dog's water bowl. I will enjoy the little moments that form so much of my life. That is what I will remember when I am old: the smiles and the sounds, the scents and the warmth.
And I will be grateful for it. ❖
This article was published originally in 2001, in GreenPrints Issue #48.