ILLUSTRATIONS BY MICHELE NIDENOFF
WWhen our good friends Kirby and Naoko Rude made a last-minute request that we babysit their pet guinea pig while they vacationed, I didn't flinch. True, I wasn't a pet person, but I had grown a marvelous tropical garden from scratch. Flowers, fruits, and vegetables filled our dinner table. How hard could it be to look after a little furry mammal for a couple of weeks?
As it turned out, very
"It'll be fun," Kirby told us. "Lily is a breeze to care for, and your kids will love her." My wife, Kanako, and I enthusiastically agreed, and they soon delivered Lily along with food, cage, and a short list of instructions. We assured Kirby and Naoko that we would take good care of their precious pet, and they headed off to a Caribbean cruise.
I thought she must be scared of something.
The first few days went well. Guinea pigs are incredibly cute, and Lily seemed to adapt to her strange new environment. She even allowed us to remove her from the cage for playtime and exploration with my kids. What we didn't know (nor did the owners, apparently) was that Lily and her ilk are fragile creatures.
A rodent native to South America, Cavia porcellus has been thoroughly domesticated—too thoroughly—for hundreds of years. It is a fussy eater that must have a careful combination of food and water. Loud noises distress them. But its primary shortcoming is an inability to deal with high temperatures, wind, and humidity.
Did I say we live in Florida?
I thought it would be nice to bring Lily outside while we worked in the garden. But the little critter started to fuss, tearing around in circles and breathing heavily. I thought she must be scared of something. I looked around but saw nothing. When I turned back, the little pig's eyes had closed. She tottered and dropped over … dead.
What a shock.
II called our friends and gave them the terrible news, apologizing profusely. We then placed Lily in a shoebox and, in a tearful ceremony, buried her by the back fence. Lastly, as a special touch, Kanako planted a small lantana over her grave.
The little shrub grew quickly, appearing to gather strength from Lily's spirit. By December, it had become a large bush, attracting bees, butterflies, hummingbirds, and mockingbirds, which eat the seeds of this self-propagating plant.
After several hard frosts, the lantana also gave up the ghost and withered to a brittle heap of dried sticks. That was difficult to see, knowing what was beneath it.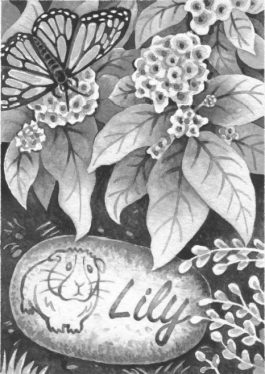 But in Spring, a profusion of new lantana plants bloomed in a dozen spots around my yard. By April, little flowers with the colors of the rainbow dotted the yard. The native fauna loved it. If monarch butterflies used Google Maps on the way to Mexico, surely there would be a little restaurant symbol where my house is located (along with a five-star rating).
Since then, the birds have spread our lantanas all around our yard, filling it with beautiful flowers all but a couple of months of the year. So much beauty has come from the little guinea pig's unfortunate death.
We call them Lily Bushes. ❖
This article was published originally in 2022, in GreenPrints Issue #132.