ILLUSTRATIONS BY CHELSEA PETERS
MMy grandfather was born Henry, but everyone called him John. He felt that Henry made him sound like royalty—"and I haven't done anything to deserve that."
Of course, I didn't call him John or Henry—but Grandfather. Grandfather was an old-school gentleman in just about every way. He loved his whiskey straight with the rocks left in the freezer. He refused to leave the house without his balding mane neatly slicked back. Most important, he made sure that things that needed to be done were done—his way. Especially in his garden, which was one of the most picturesque, perfect gardens I have ever seen.
My jaw dropped. Grandfather wanted me to help him?
Grandfather kept an array of perfectly pruned lemon, orange, and apple trees on either side of a pathway that led to a running stream. Its little pond was brought to life by beautiful koi and the scent of the honeysuckle and roses that surrounded it. Luckily, those lovely smells didn't quite cover the odor of the miniature cigars he smoked when he crept up behind us—to make sure "you don't touch what you shouldn't touch."
As he got older, Grandfather could hardly work in his garden. He spent more and more time sitting in the chair on the veranda, gazing at the fruits of his years of labor.
I was his favorite grandchild, the only one who took a real interest in his garden. This turned out to be a real blessing because eventually he taught me everything I know about gardening.
It started the day I will never forget, the summer I turned 12. I went to visit, and the second I walked onto the veranda, Grandfather said, "I want you to help me with the garden."
My jaw dropped. The garden was Grandfather's pride and joy—and he wanted me to help him?
I immediately agreed. He responded by finishing his whiskey and stubbing out his cigar. Then he stepped out of his chair and limped into the garden. I followed.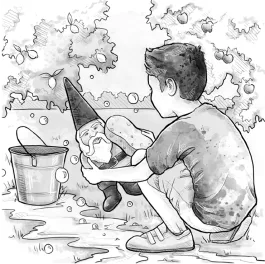 "Grass needs cutting, pots need water-proofing, and I need the green scrubbed off the gnomes." With that, he put his withered hand on my shoulder and pushed me lightly towards the lawn. Then he turned away, returned to the veranda, and went back to his chair.
I didn't know exactly what to do. He didn't really give me any orders at all. So I started with what seemed easiest. I got a bucket and cloth and scrubbed all the green stuff off the ornaments, using just enough pressure to get them clean without damaging the paintwork. I looked back every so often to see him staring at me. But instead of feeling intimidated by his glare, I felt privileged that he had taken me under his wing.
I worked hard all day. Every couple of hours or so, he came over and brought me a glass of orange juice—fresh-made from his own oranges, of course—studied what I had been doing, and gave me, occasionally, a nod of approval. It was getting dark and I had just finished cleaning out the pond filter when he told me to stop. I put my tools away and walked back to the porch. To my surprise, he had set a smaller chair beside his. He led me to it and we both sat down. My bones were weary and my eyelids were heavy. I looked into his face—and he smiled and said:
"Now you see, son, why I love my garden so much." ❖
This article was published originally in 2016, in GreenPrints Issue #106.