ILLUSTRATIONS BY LINDA COOK DEVONA
OOld Compost Breath has been laid to rest. We buried our sightless Border Collie—in keeping with his nature—at the foot of the garden, just ten feet away from his beloved compost bin. After all, many's the moonlit night he stopped by it for a snack before commencing his garden patrol.
He died four days ago. Already blind, deaf, and slightly senile, he was still adored, on an almost hourly basis, and it hurt a lot to let him go. But then a sudden stroke immobilized him, and we knew it was time.
Our thoughts turn to tribute. How shall we honor this blind guardian of the garden?
The four of us had wandered our property, silent at first, looking for a good resting place. At first we thought the orchard would work, but it felt too empty there. When our wandering brought us to the foot of the garden, something said "Yes." After all, hadn't the garden been his favorite place? Hadn't the old Border Collie herded us—in the absence of sheep—ensuring our safety as we traversed the Dangerous Path between toolshed and garden? Hadn't we all been convulsed with mirth when, navigating by the squeaks of the wheels, our blind dog had herded the wheel hoe and the Garden Way cart, lest those pesky creatures get out of line? And then there was the way he would flop down heavily on the garden path and rest, but only once we had settled into a regular rhythm of garden work.
To be fair, I should tell you his real name. It wasn't really Compost Breath. That title, along with Woofus, Blunk-Eyes, His Bestness, and several others, was earned somewhere along the way in his 13 much-beloved years. His actual name, Gyp, came from an old book about another special needs Border Collie: James Herriot's Only One Woof. The four-year-old boy who chose that Gyp hadn't noticed his blindness at first, but it became apparent over time. Still, our Gyp had a wonderful life, shielded from harm by a loving family and caring neighbors who kept an eye out for him on his occasional wanderings down our rural dirt road.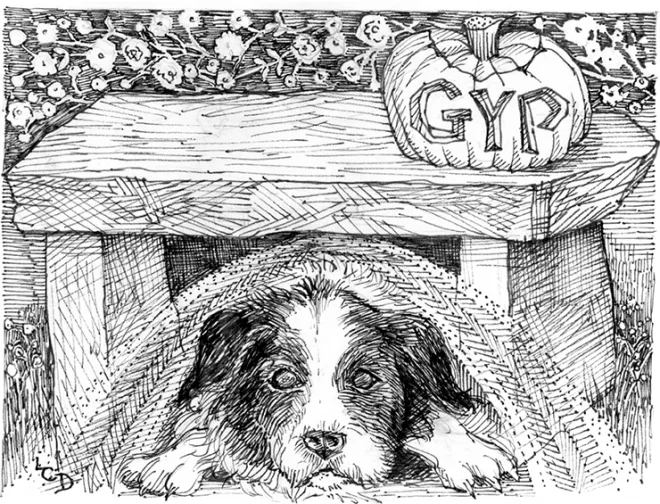 Now, four days after our loss, our thoughts are freshly turned to tribute. How shall we honor this blind guardian of the garden? Already a new rhythm has established itself in our lives, for our morning forays for fresh produce are preceded by visits to the graveside, marked only by a small painted stone. The 17-year-old son thinks a stone bench is needed, so we can sit and "dwell on Gyp's bestness." Ever the engineer, he envisions the four of us rolling a huge granite stone down from the rock pile at the top of the hill and laying it on short fenceposts. The mother figure, who loves all things Scottish and used to soothe Gyp by playing bagpipes for him, imagines a well-coordinated planting of Scotch pines and heathers. The 12-year-old son likes the idea of a black-and-white garden to mimic Gyp's markings so we can still feast our eyes on his picturesque form. A family friend suggests crafting a small fountain or birdbath from his old water dish and placing it near a plywood cutout of a Border Collie, complete with milky glass marbles for eyes. With a wry grin that sets us laughing in spite of ourselves, she tells us to place these things under a white-flowering dogwood tree.
That triggers it. Soon the suggestions come pouring out like the late-Summer rainstorms that split our tomatoes. "We have to plant collie-flowers," one of the lads cries out. "And what about collie-lendulas?" says the other.
"Collie-fornia poppies?"
"How about dog-tooth violets?"
"We should plant lots of things for the border…"
Now everyone is getting animated. I could almost swear there's a shadow lurking in the corner, tail wagging affably. Yes, a dog with as many silly nicknames as Gyp had deserves a humorous tribute. Someone suggests a bleeding heart plant to commemorate the one he trampled near the door every spring, navigating blindly as he always did. Could we pair it with eyebright, perhaps?
When the laughter dies down and we wipe the mist from our eyes, we settle on a plan. Tomorrow we'll go out and study that rock pile. The stone bench idea has merit. After a long day of gardening, I know I'd love to sit down in the presence of our garden-ian spirit and survey the results of our long partnership. Next we'll visit a few local nurseries, hoping to grab a few ideas along with out-of-season bargain plants. (Gyp was a Scottish dog, after all; he'd want us to be frugal.) Then we'll haul out our catalogs and order some bulbs to plant this Fall—in a nice assortment of black and white—and some seeds to set out in the Spring.
In the waning light of day, I cast a final look out over the garden. Soon there will be pumpkins to harvest. Maybe this year we'll carve a Gyp-o-lantern! Then we could always toss it on the compost pile, where its humble, earthy smell could loft over Gyp's final resting place and give him a little posthumous—and humus—treat. As the sun slips below the horizon, a sudden inspiration strikes. I know with certainty what seeds I will scatter to honor the wit and whimsy of our dear old dog:
Babies breath. Gypsophila. ❖