ILLUSTRATIONS BY LINDA COOK DEVONA
MMy wife, Carole, looked behind the shed and was appalled.
"George," she called sternly. "Will you come here for a minute?"
I was sweeping the front porch when I heard her.
"Just look at this mess! There are old pots and seed trays everywhere. Instead of adding to this eyesore each year, why don't you just, once and for all, throw it in the garbage can? You'll never use these pots again. Honestly, it looks like a hellhole! Next thing you know, it'll be attracting snakes."
"No one can see it. It's behind the shed," I countered. "Besides, you never know when you're going to need a spare pot."
"Please, once and for all, will you throw it all out with the trash?"
"George, just look at this mess! There are old pots and seed trays everywhere."
"I'll see what I can do."
It's true. I'm not the neatest person alive. Each year, after I remove all the annuals from their pots and trays, I simply dump them behind the shed. When we planted our perennial garden, I practically doubled the number of large pots there.
Carole and I tangle about the eyesore behind the shed each Spring when I surreptitiously add more pots to the pile. You can't see it unless you go behind the shed. This falls into the "out-of-sight-out-of-mind" category in my opinion. Besides, you never know when you'll need just the right-sized pot.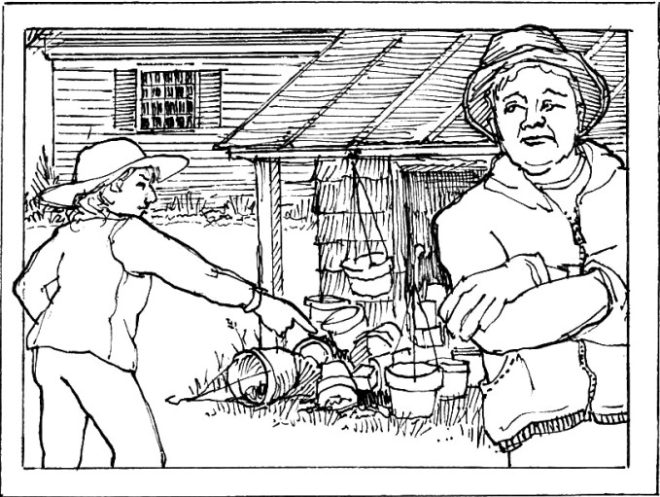 Last past Spring was as hectic as ever. Carole and I divide the gardening chores, as usual. I mow the lawns weekly, sometimes bi-weekly if it's cool and damp—you know how fast grass grows in the Springtime.
The planters that will contain the annuals—mostly dwarf marigolds and blushing petunias—have to be cleared of last year's dead stems and Autumn leaves. One year, I never got around to that chore until Memorial Day. The marigolds and petunias, surprisingly, couldn't wait! Both had already reseeded themselves. That saved me time and money—I don't know about you, but I appreciate volunteers.
I also have the task of sowing the vegetable and herb seeds indoors, tending the seedlings, hardening them off, and later planting them outside.
Carole, on the other hand, tends the perennial garden. She also purchases the geraniums and plants them along the front porch—12 plants on each side of the walkway. Carole has a flair for color combinations and selects young plants whose blooms support flashy shades of purple, pink, and red.
In addition to the geraniums, Carole selects the hanging baskets that will adorn our outdoor porch. They always perform splendidly because she fusses over them all Summer.
OOne Saturday morning in early May, while I was mowing the lawn, Carole drove to our favorite garden center, which advertised an early-bird special on geraniums. There were literally hundreds to choose from—from ordinary reds to exotic speckled and striped ones! She selected 24, paid the cashier, then drove home. I had just finished mowing the lawns.
"Carole, isn't it a bit early to be planting geraniums?"
"I checked the long-range weather forecast for our area on the computer. Nighttime lows are not expected to dip below 42 degrees, so let's get these planted!"
Carole dug up the area for the geraniums and raked it level. Then, one by one, she removed the plants from their pots, dug a sizable hole for each geranium, planted, fertilized and watered them well.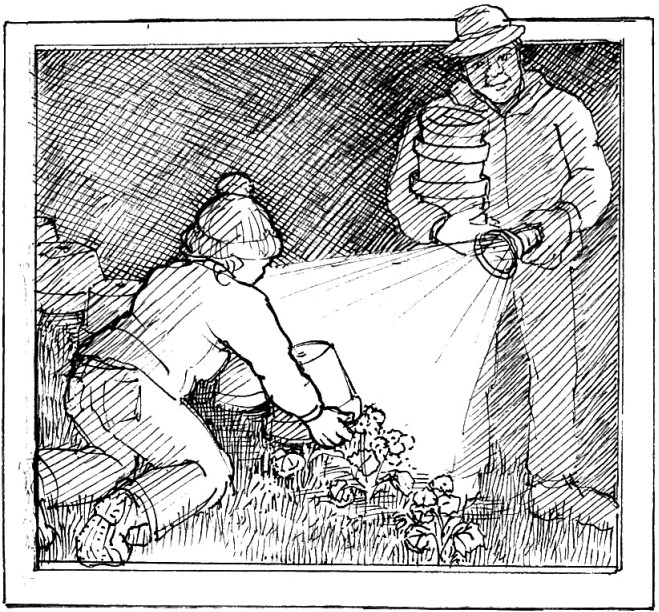 "Please throw these pots in the garbage for me," Carole requested.
I collected the empty pots and, unbeknownst to her, stacked them behind the shed. After all, you never know when you'll need 4-inch geranium pots.
Five days later, I spent the evening at the local hospital visiting a sick friend. Dusk had fallen as I started my drive home. On our dark, winding country roads you must be alert for deer, bears, wild turkeys, racoons, and other wildlife that might scamper onto the road in front of you with nearly no notice.
Luckily, I have never hit a deer even though most of my friends have. Of course, if I hit the deer that ate my yellow squash plants last year, I probably wouldn't have cared in the least.
As I pulled into the driveway, I noticed a light flashing behind the shed.
"George, come help me!" Carole shouted.
At first, I was alarmed that something dreadful had happened. Did she encounter a snake? Then I thought that perhaps she was just so disgusted waiting for me to clean up the clutter behind the shed that she was doing it herself. But in the dark? It wouldn't be unlike her.
I rushed over—and there she was, holding a flashlight and rummaging through the pile of pots.
"What on earth are you doing?" I asked, totally perplexed.
"George, I just turned on the radio, and the announcer said there's a frost warning tonight for our area! Help me find 24 pots to cover the geraniums."
We rummaged through the "hellhole" and found 24 good-sized pots, many that our perennials had once grown in. Then, by the light from the porch, and with me directing the flashlight, Carole covered each one of her "babies."
"About that eyesore behind the shed," Carole remarked, "you never know when you'll need a pot—or two dozen! Thanks for not listening to me."
"It's called selective hearing, dear," I said.
"What's that?" Carole joked, "I'm not sure I heard you!"
We kissed and walked inside. ❖
This article was published originally in 2023, in GreenPrints Issue #133.