ILLUSTRATIONS BY JEFF CROSBY
FFinally, this year, we took the time for some long overdue planting. The plants themselves weren't very extraordinary: three small ivy topiaries and one bougainvillea tree. We gently removed them from the pots where they had long been residing and lowered them into the soft, cool earth.
Maybe I was being a little silly, but I decided to make a video of each of us planting one of the ivy plants into the ground: first, my husband Ron, then our 10-year-old son Devin, and finally, me.
You could say I'm one of those overly-dramatic people, obsessively recording every insignificant thing. But I thought the planting was significant: for the first time since we have been married, we were putting actual roots into the ground.
And the plants themselves carried some significance. The three ivy topiaries, still retaining a bit of their original heart shapes, had been table decorations at our wedding 16 years ago. And the bougainvillea tree had been a gift from close friends who had treated me to a special dinner a few nights before the wedding.
Even getting the soil ready for our plants felt like a privilege.
For the next 15 years, we kept those plants going in their pots on the balconies and patios of all the places we lived. The potted plants were always the most annoying thing about every move. Just when we thought we were all loaded up, one of us would remember that the pots on the patio couldn't be left behind.
Ten years ago, when our son was born, we bought our first home—a brand-new condo. The plants of course came with us, but no garden was available for them. Even as homeowners, our backyard was again a patio and the lovely landscaping all around was the charge of the homeowners association, not us.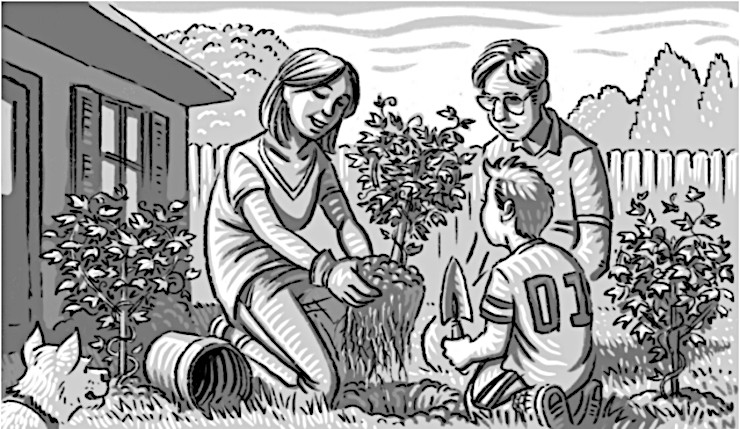 WWhen my son was little, I would work on little planting projects with him on that patio: eggshell cartons with seedlings, little flower pots of dwarf sunflowers. But nothing could last very long in those containers—except the stalwart ivy and bougainvillea.
When my dream of a home with a backyard actually happened, I savored every minute—watching my son run outside any time, day or night, to shoot baskets at his hoop, watching our newly adopted little Maltipoo fly from one end of the yard to the other when he heard a squirrel, and just sitting in the quiet, absorbing the sounds of birds and wind stirring the leaves.
Even the act of digging in the dirt to get the soil ready for our plants felt like a privilege. The phrase "setting down roots" is such a huge metaphor for settling down. And yet, placing each of our precious little plants in the soil was really the literal act of setting down roots.
And so, maybe I don't need to look much farther than the literal meaning: We carried these plants with us a long time, so that we could finally put them where they, and we, could grow. ❖
This article was published originally in 2022, in GreenPrints Issue #132.