ILLUSTRATIONS BY JEFF CROSBY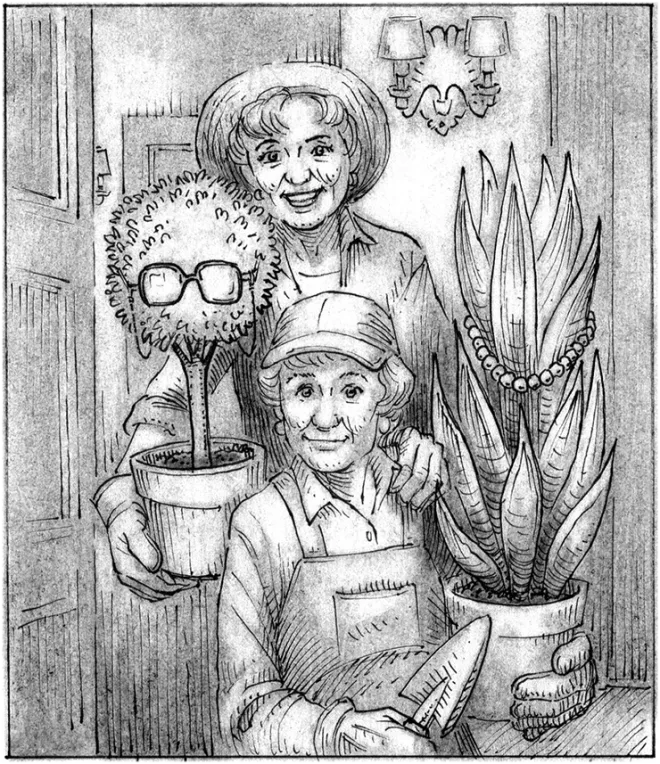 BBack in the day, my best friend Marge and I became known as The Gardening Fools. This was due to that incident with the gigantic tomato worm we dispatched via VW bug. Well, that and a little mishap with sod.
Years later, our husbands were gone, and Marge and I had huge gardens several towns apart. We each spent every minute with our hands in the soil—and were wearing ourselves out. The idea that maybe we should share one garden didn't originate with me. My husband planted the seed in the final days of his illness. Actually, what he said was: "You girls should just live together. Save a lot of money."
We each spent every minute with our hands in the soil—and were wearing ourselves out.
"Girls?" Ha! Maybe I should have listened to the rest of what he said, as well. But, no, it took six years—two epic Winters—of living alone to make me realize that a Marge-and-Maggie merger might be a good idea. Well, that and the day I went out into thigh-high snow to feed the birds, lost my balance, and fell on my rear end. "Yep," I thought, as I struggled, laughing, to rise, "I've managed to make my back garden totally private. I could die out here and no one would know but the birds!"
Marge and I had been holding each other up through divorce, death, and all the other stuff life throws at you for over 40 years and had yet to have a fight. Could we do a "Golden Girls" thing and share a house as roommates? We talked about it and decided we could.
First we explored "active over 55" condos. Alas, when they say "active," they don't actually mean gardening active. I could see us both getting twitchy watching others do our landscaping. Plus, the condo rules seemed a tad rigid. "Christmas decorations: Kissing Balls may be no more than 6" in diameter." We pictured some little old biddy deeming our balls too big. (She would be right, of course.) Despite hurtling toward biddydom ourselves, we decided condominiums weren't the answer. We needed a small home, and small garden, to share.
It was then that we were blessed by the gods. A developer was going to put up a new single-family house in an established neighborhood in a town we loved. It was within walking distance of the cute and funky downtown, we could design it with two equal-sized master suites (and a spare room for the grandkids), and it had a garden spot we could start from scratch.
We went to the site and checked out the important stuff. Sunlight: good. Absence of that impossible-to-get-rid-of false bamboo weed: great! Plus, it had a vernal pool in what we were already referring to as "The Back Forty." A vernal pool! Dries up in the summer, emerges in the spring—an ephemeral water view!
How cool is that?
Marge and I smiled. At 66 and 72, could we do this? "Piece of cake!" we said simultaneously.
Marge and I looked at each other and smiled. At 66 and 72, we could do this, right? "Piece of cake!" we said simultaneously.
If only. The logistics turned out to be daunting. Marge's house had to be sold first for the down payment, so all the shrubs and plants excluded from her sale needed to be moved to my house and kept in a holding pattern and her furniture packed into my storage room.
But what to take from the gardens? The iris? Between us we had hundreds. Love all the iris, but hate the chore of cutting them down each fall. My back hurts just thinking about it. So no iris. Ah, but the fothergilla, the yellow twig dogwood, the honey-suckle, and clematis? Oh yes! And can't forget the lady's mantle and the bleeding hearts, all the varieties of coral bells and the…
Soon my house was surrounded by huge tubs of plants, plus a dismantled pergola leaning inelegantly against my shed. I was watering and watering and watering and tagging all the plants from my own garden that would be making the trip and watering and cleaning my house within an inch of its life and, oh yes, watering.
Once we were finally ready to move in, it took my wonderful handyman friend three trips with his pickup truck to move all our pots to the new house, and they all needed to be planted—right then, around a brand-new house with no landscaping. We moved August 1, in the midst of an epic drought.
"Think we can do this, Maggie?" asked Marge, looking at a nursery's worth of pots.
"Sure!" I said, "Piece of sweet breadlike dessert!"
We plonked everything willy-nilly in the ground, with no thought for design and apologizing profusely to the plants as we went: "I'm sorry, I'm sorry. You will be happy later. Look! Over there, if it ever rains again, there'll be a vernal pool!"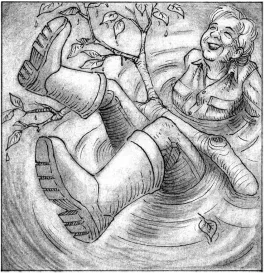 Amazingly, all the plants survived. We did, too. We put up privacy fence, and, fool-me-once-but-not-twice, installed a gate on either side of the house. A design took shape. Flower beds were installed, shrubs were moved, and we added a gorgeous river birch. The pergola, two years in storage, was installed over a patio with views of Vern. The yellow twig dogwood was espaliered beside the pergola; the honeysuckle and clematis thrived.
It wasn't a piece of cake, but we did it—and the results are worth it. Recently I started my "make way for ducklings" project: pulling tree limbs out of Vern that had been felled by last year's Nor'easters. Wellie boots on, I grabbed my first limb and pulled, and suddenly half a tree, with canopy, came out—and I went in. Yep, there's Maggie on her rear end again, laughing, boots in the air and half a tree in her lap. But this time, I know that Marge will look out and notice. That's golden.
Maybe these two old gardeners aren't such fools, after all. ❖