ILLUSTRATIONS BY LINDA COOK DEVONA
One thing many horticulture enthusiasts love as much as the physical act of gardening is reading books about gardening. I've been involved with a variety of Friends of the Library groups since 1982. By my calculations, I've sorted, priced, and boxed over 42,000 horticulture books and magazines. I've even left a few of them for others to purchase at the actual book sales.
You would think that someone who sorts and prices used books all year long would not buy any at the sales. You would think. Nope. And I don't stop there. I find more in "Oldies but Goodies" and "Hobbies and How-To" sections at used book sales. So—like any fanatic—I thought it might be fun to share a few of the more special finds I've tilled up over the years.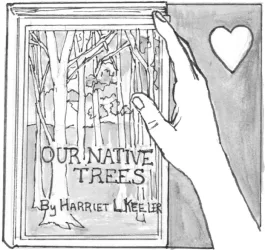 Our Native Trees and How to Identify Them, by Harriet L. Keeler, was one of the first to get my attention. Originally printed in 1900 (I purchased the sixth edition from 1908), the book is sub-titled A Popular Study of Their Habits and Their Peculiarities. There are 178 illustrations from photographs and 162 illustrations from drawings.
The preface states that the book was written for amateur botanists and those who love the rural life. The author fittingly weaves in extracts from the works of Lowell, Longfellow, Emerson, Whittier, Holmes, and Thoreau. Keeler's tome is detailed, covering the dicotyledons and gymnospermae genera.
The book includes a keying guide, a chapter on the form and structure of trees, and a wonderful glossary of botanical terms. Descriptions of the trees include their commercial use, history, and the origin of the tree she is describing.
I've sorted, priced, and boxed over 42,000 horticulture books and magazines. I've even left a few for others to purchase.
For fun, I looked up the papaw tree. Keeler states, "The early settlers called the tree papaw because of the resemblance of its fruit to the real papaw of the tropics. Ripening in September and October, it is frequently found in the markets of western and southern cities, and although credited in the books as edible and wholesome, one must be either very young or very hungry really to enjoy its flavor." Nice commentary!
Another antiquarian discovery in my book forays was a newsletter entitled Kansas Gardens, The Official Magazine of the Kansas Associated Garden Clubs, published in October, 1928. As a budding author, I find I need to share with you the first paragraph of this issue, by T.J. English, assistant editor:
One day in early October a wind will blow out of the northeast, charged with a crisp coldness; and although the landscape is fair, the trees are green and Summer's flowers are bright, we know, unmistakably, that her reign is over. Comes a three days' drizzle and with clearing skies a killing frost; and Summer's panoply lies torn and tarnished; the Queen has fled her ruined throne.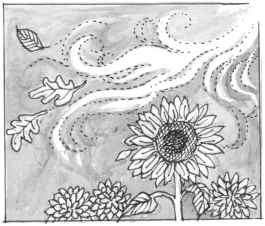 Wow! How could I not read the rest of this newsletter? The rest of English's article, by the way, included a discussion on how to put your garden to bed for the Winter.
Another article claimed that growing flowers is not a matter of luck, but of controlling them from disease. Then we learn that there was a meeting held at the Hutchinson Fair Grounds on September 18th of that year. Members listened to a talk about the conservation of native wildflowers by Mrs. Hudson of Wichita, Kansas. Displays by the Wichita, Hutchinson, and McPherson garden clubs were shown in the horticulture building, where the Hutchinson Flower Club won first prize.
A lovely article about Kansas wildflowers focused on bouncing Betty, or soapwort. Professor Wilson, of the Arnold Arboretum, was quoted in an article by Laura Snyder about lily combinations for Kansas gardeners.
Further reading taught me that the ruby-throated humming-bird comes to Kansas in the month of May to stay for the summer. There were also reports from Kansas garden clubs in Wyandotte, Goodland, Anthony, and Augusta.
The last pages of the newsletter included the most delightful advertisements. One ad was for a Golf Sickle that claimed to give you "wonderful exercise cutting grass or weeds." The sickle was shipped for one dollar, postage paid, out of St. Louis, Missouri.
In another used garden book, I learned that Ellen Shipman began designing gardens in 1912, before she moved into landscape architecture. Her mentor was Charles Platt, and she began her work in New Hampshire. Shipman worked on over a dozen projects with Warren Manning, who had an open mind toward women. (Manning himself apprenticed with Fredrick Law Olmstead.)
It was Manning who taught her every aspect of landscape architecture, which nicely balanced her gardening skills. Shipman's design of flower gardens was beyond reproach. She loved old-fashioned gardens, and her style was distinctly American. She excelled at succession plantings, ensuring her gardens had year-round presence. I believe she was also one of the pioneers in xeriscaping and native species plantings.
A recent library book sale purchase of mine is The Handbook for Fruit Growers, by F.R. Elliott, published in 1877. This gem includes detailed drawings of plants and growing techniques specific to fruit production for the home garden. We are testing Elliott's pruning methods on our raspberries. Hopefully, this Summer they will give us a large enough crop to make jelly.
One horticulture print, a jar, and five full bookcases are not enough to be in the avid category.
I started reading a book called Gaia's Garden, A Guide To Home-Scale Permaculture, by Toby Hemenway. Our society loves buzzwords. Permaculture. Sustainable. Irradiation. Alternative food culture. Self-renewing landscape. Locavores. I signed on to the Topeka and Shawnee County research database and found an article in Progressive Grocer, June 21, 2007, that forecast locally grown food sales to be $5 billion. Time Magazine, March 21, 2007, had an impressive and well-researched article written by John Cloud that discussed the "local versus organic" debate.
About this time, I realized I was off track again and needed to look at my topic reminder sticky note. Oh, right, the horticulture bookshelf!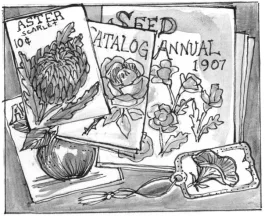 Wait—what's this? The Ephemera Newsletter, Summer 2007. I picked this up at the Antiquarian Book and Paper Ephemera show in Denver because it had an article called "Going to Seed: A Magnificent Obsession Blooms in Vermont," by Pat Laffin. (Paper ephemera, by the way, can be defined as "minor transient documents of everyday life" or, more broadly, as "any printed or manuscript material that is not a book.")
Laffin has a seed-related collection of paper ephemera that spans 30 years and 160 seed companies. Her collection includes packets, boxes, catalogs, labels, trade cards, posters, displays, letterheads, postcards, and advertising pieces. By comparison, my ephemera collection consists of one print and one antique labeled jar.
Avid gardeners understand how horticulture sneaks up on you. We started with a basic Summer garden that had a couple of tomato plants, maybe a few herbs. Or a houseplant sitting on a south windowsill. Next thing you know, there is a hot greenhouse with orchids, you've spent the past 20 years defining and molding one bonsai tree that still isn't quite perfect, and there are ribbons on display at your office from state fair entries in floral design. Gardening gets in your blood and becomes both a love and a need.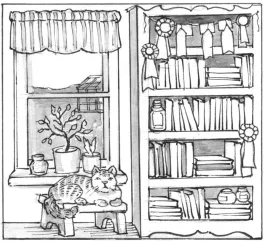 I'm the same with horticultural literature. But using Laffin as a standard, I need to get hunting and catch up! One horticulture print, a jar, and five full bookcases are not enough to be in the avid category. Which begs the question, how much is enough? My tiny house is 1,080 square feet, limiting the amount of wall space for bookcases, display shelves, and wall hangings. I realize—I do—that I have more than enough gardening books. But I obviously need to get up to speed on horticulture ephemera. Maybe I could include the outside of the chicken coop, the front deck on the house, the greenhouse, and the patio. Yes! Now that I've found more display space, I need to hit Google to get the dates for the Brownsville, Nebraska, and Sparks, Kansas, flea markets, the Highway 36 Yard Sale, the Denver Antiquarian and Paper Ephemera show, and all the area library book sales.
I should also check with the local greenhouses for work—to support my book and horticulture ephemera hobbies. ❖