ILLUSTRATIONS BY CHELSEA PETERS
MMy father was one of the greatest gardeners I have ever known. He wasn't much for flowers. "You can't eat flowers," he always said. But he grew everything else—tomatoes, peppers, potatoes, asparagus, and so on. You name the crop, he knew the trick to make it grow.
In late 2008, my father became ill and underwent two surgeries. By Spring, his health problems prevented him from working in his garden. The plot for his garden was his front yard, and his porch overlooked it. I remember him sitting on the porch and telling me, "Babe, I don't think I will ever be able to work in my garden again."
I knew it was time for me to step up. "Dad, I'll tend the garden with your guidance from the front porch," I assured him. So that year we worked together—I would ask questions, and he would guide me.
I clutched it to my chest. "I'm going to keep it forever."
It was a wonderful year working closely with Dad and reaping all those vegetables. I remember bringing him my first fruits—onions, peppers, and tomatoes—it was very satisfying. He was proud of me, as well, and he truly enjoyed helping me. Dad would say, "Your tomatoes need tying up, I will cut your strings." Sometimes he was able to come with me and look around and give me instruction about everything. How grateful I was for that!
Over the Winter, his health declined, and he passed away in March. It was a very difficult time for me. But I was thankful for the coming Spring and the time to garden again. I had learned over the past year that gardening was a gratifying hobby. It kept the mind occupied and brought me some happiness.
TThat Spring, I ran the rototiller over a small portion of the garden. I thought I'd plant some lettuce, carrots, and beets. While I was working, a few neighbors stopped by to express their condolences. One man said, "Hey, what's that sticking up over there in the garden?"
I replied, "Just a bit of a stump, I guess."
"I don't think so," the man said. I walked over to it and realized it wasn't a stump—it was flat and brown. Just a little piece of it was poking out of the ground.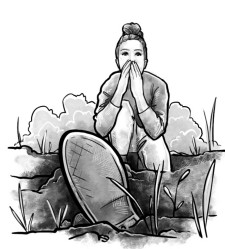 I reached over and pulled it out. To my surprise, it was one complete sole of a shoe. I began to tear up. I told the man, "It is a sole, one whole sole."
He asked, "What are you going to do with it?"
I clutched it to my chest. "I'm going to keep it forever and ever."
I was so touched by the sole in the garden that I came up with a poem about it. I made my daughter come to the porch and write the words that came to my heart:
Some friends stopped by. "How's it going?" they said.
"We've been praying for you. May we help in some way?"
"No thanks," I replied, "I'll be just fine. I'll get by as time goes by.
I'll use my hands to work this land, and I'll find my dad
As I work here in his garden."
Now I know, of course, that Dad took his spiritual soul with him to where he was bound. But my dad had a wonderful and slightly mischievous sense of humor. So I have no doubt that he did, indeed, leave this other sole behind to reassure me.
And to make me smile. ❖
This article was published originally in 2022, in GreenPrints Issue #132.