ILLUSTRATIONS BY P. SAVAGE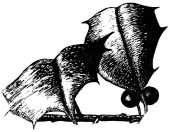 "But when the bare and wintry woods we see, What then so cheerful as the Holly tree?"
—Southey
A Kansas winter is all sepia tones. In that state where I grew up there are no native hollies with red berries to brighten the sparse woodland. No glossy-leafed shrubs nor tall pines to add color to a monotonous countryside.
Thus I welcomed always the first snow to shroud the ugly bare bones of winter—the skeletons of sunflowers and the sprawling brown corpses of rusting farm machinery. Sometimes I willed the snow to lie there until spring. And sometimes it did.
But often there came a hesitant winter with light snowfall, when the shroud grew quickly threadbare and lay about in dirty ragged patches on the frozen black ground and the prairie had the somber appearance of a battlefield that had never quite recovered. Such a time was Christmas, 1944.
My very best friend that winter was a perky kid from Pennsylvania: Marianne had come late in autumn to Kansas to see her boyfriend off to the war at a nearby Army Air Field where bomber crews were processed for combat duty in the European Theatre of Operations. We met when she moved into a tiny apartment down the street from my house where she was biding time until he returned.
Her soldier was piloting a B-24 out of a base near London, and as Christmas drew near, she learned that he was one of those providing air support for American troops under siege near the Belgian frontier. Near a place called Bastogne, in a battle called "The Bulge."
She chattered tearfully of her beloved Pocono mountains, of holly and pines and deep clean snow. She hated the prairie—and I was quick to defend it.
Fresh out of high school and brimming with patriotism, she and I decided it would be a lark to take jobs at the air field, as salesgirls in the barnlike Post Exchange that had just opened. We were excited at the prospect of being a part of the "war effort"— selling candy and notions and flat-fifties of cigarettes to dashing, handsome fliers.
And it was fun. But the salary was menial, the PX cold and cheerless, and our enthusiasm soon waned.
Nevertheless, all during that grim holiday season, among the garish gold tinsel and red crepe paper trimmings of the ugly PX where the jukebox crooned Bing Crosby's continual lament for a white Christmas, we cheerfully honored our commitment while helping boyish airmen select and wrap gifts for their loved ones.
But depression soon seeped into our midst: The news from Europe was bad and for weeks no mail had come from Marianne's pilot. She chattered tearfully of him, her beloved Pocono mountains, her family, and of holly and pines and deep clean snow.
She hated the barren prairie—and I was quick to defend it with descriptions of springtimes of sweet Williams and violets; meadows of larks and sweeping seascapes of summer grasses; the music of cottonwoods and the autumn scent of yellow leaves and apples. I told her that a Kansas winter was just to be endured—it wasn't intended to be pretty or fun.
But her discontent was contagious and even I began to question my devotion to the place where I had lived all 18 of my winters—the gently undulating land I had never been away from.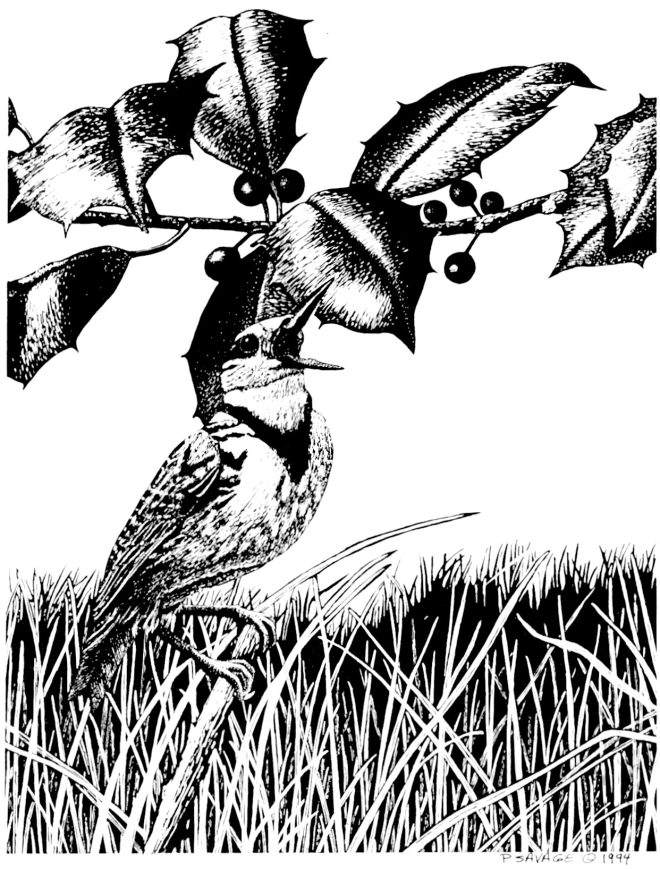 I wanted to see Marianne's mountains. Ski trails. The postcard-perfect hometown nestled in fragrant frilled pines covered with marshmallow snow. The twinkling lights of the old stone inn. And the holly. I wanted most the holly, all bright-berried and satiny like that I had seen only on holiday cards. The holly I had painted pictures of in school every Christmas of my childhood.
Christmas Eve came and we trudged, silent and dejected from the bus stop, through the blue twilight and grey slush to the apartment. There, on the doorstep, was an enormous brown cardboard box, parcel post from Marianne's mom in Pennsylvania.
It was packed with fresh-cut branches of spruce and feathery pom-poms and giant cones from the fabled pines. And there were great boughs of holly with glossy, spiked leaves thick with shining berries. Holly— more beautiful even than I had imagined.
We filled the dreary apartment with the winter greens of the Poconos, and the red glow of berries lighted our way through the Holy Night—through the final dark days of a long vigil and on to Candlemas.
In those last bleak weeks of winter, the snow fell long and deep and clean—and a big bundle of V-mail arrived for Marianne.
The holly berries dried to a dusky burgundy hue—like that of old rose petals. They lingered on in the empty rooms where a faint scent of pine wandered long after Marianne moved on. She didn't wait for spring.
She went instead to marry her soldier and to live in a barren dusty town somewhere in the Southwest. A place where there is no holly and where it seldom snows—and where only ragged sunflowers bloom along the roads in summer.
Hers was a decision that puzzled me—-part of a frenzy of "transplanting" that came with the spring of '45 as war ceased and the boys came home to marry girls they scarcely knew, pretty women they had fallen in love with many months before on their way to the battlefront.
But then I, too, fell under the same spell—I married a handsome stranger with a smile as dazzling as the silver wings on his tunic. Without a qualm, with nary a glance back, I left prairie meadowlarks and sunflowers far behind and went to live amid lofty pines where, still today, a half-century later, wild holly glitters on snow slopes in winter— right outside my window. ❖