Our editor, Pat Stone, opens each issue with his "At The Gate."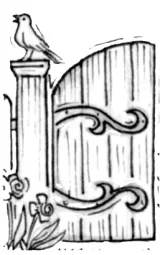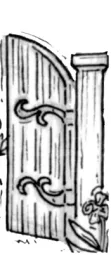 I recently read an essay in the superb Christian quarterly Weavings in which the author, Minister Kristen Johnson Ingram, describes herself as standing safely inside her front fenced yard while Jesus, in the street, calls her with a beckoning finger to "Open the gate!"
I'm writing an essay myself called "Gramma's Back Gate." It tells of her ministry to hobos from the nearby huge trainyard in her town of Grand Junction, Colorado (hence the name). All the hobos knew that when their trains laid over in Grand Junction, they could always get a meal at the gate—Gramma's back gate.
So you see that gates are a popular theme! As I read Pat's intro essay on this New Year's Day, I can't help but think of gates in a different context: Today is the gate! Ready or not, we all stand at the gate of a new year, and it will swing open today.
What will it bring? Wouldn't we all love to know that in ad-vance? Most of all, we might like to know the surprises. What will happen unexpectedly in 2018? Will this be it for me—or someone I dearly love? What will happen to my health, finances, home, family—and my vegetable garden? Gee, Lord, could you help me out a little here? Give me just a few hints and clues?
This past year was a record-setter in my garden. I harvested over 100 peppers and over 200 tomatoes from two 8 x 10 raised beds. Lord, will my 2018 harvest be as good? Or will bugs or drought or weeds take over?
OK, be that way. Don't tell me. Ask me to be patient. Ask me to let each day unfold at its own pace, just as I have to wait forever for the broccoli to bud or the cornsilks to turn brown.
But Lord, if nothing else, could you at least let me know two dates for 2018? When will we have last frost this spring and first frost this fall? That's not much to ask, is it? ❖
This article was published originally in 2018, in GreenPrints Issue #112.