ILLUSTRATIONS BY CHRISTINA HESS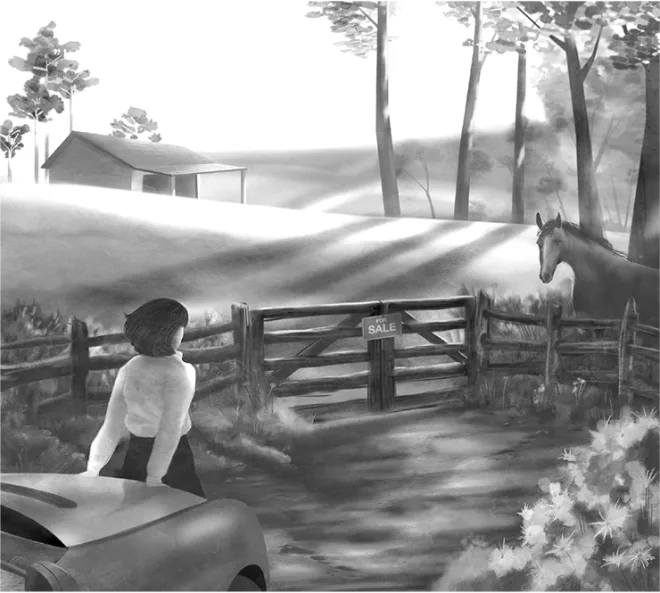 WWhen I can, I look for land for sale, midway between Raleigh, North Carolina, where the kids and grand-children live, and the Urgent Care office in Fayetteville, where I work. On days like this mid-Spring one, when there is time and sunshine after work, I meander on country roads near the point where Interstates 95 and 40 cross, keeping my eye out for property.
A couple of miles outside of Benson, near a quaint country store, I see a sign, "Land for Sale—19+ Acres—Pond," with an agency name and a phone number. I pull into the driveway, blocked by a sturdy farm gate, get out, and look. I can't see the pond, but I do see a small pole barn, about three cleared acres, and a few mature loblolly pines. I use my cell phone to call the number on the sign, expecting to get a recording. Instead I get an enthusiastic answer with a country drawl.
"This is Jim Marshall. How kin I help y'all?"
"I'm by the land on Highway 27 near Red Hill Church Road and wondered if I could make an appointment to see the property."
"I kin be there in ten minutes. Does that work?"
While I'm waiting, I look at the neighborhood. To the right is a similar deep lot with a nice two-story brick house. Two horses there are racing each other down a narrow pasture, stopping to nibble grass, then resuming their playful running. To the left is a somewhat run-down, one-story frame cottage on a wooded lot. There are well-kept double-wides across the street.
"Put your hands up!" My heart does a somersault in my chest.
A white Ford Explorer pulls in behind my car, and a large man with a red face and wispy gray-blonde hair gets out and introduces himself. We drive in to the property, and I see the lovely large pond, down a gentle slope backed by woods. The charming barn has three open bays and an enclosed room with a wood-burned sign that says "Bunkhouse."
TThree weeks later I have a mortgage on the land. I decide to plant a garden.
I dig a 10' x 15' plot with a shovel. At my house in Durham, the soil is dense red clay with rocks and is hard to cultivate. This sandy loam—honestly, it's more sand than loam—might require amending, but it's a pleasure to turn over. I can't plant too near the pond—it's too steep and brushy—but the pond is the only source of water, so I hack a path to it from the garden and put a couple of five-gallon buckets in the barn.
In go tomato plants, chard, jalapeños, and eggplants. I haul up a couple of buckets of water to start things off, and fervently wish for a rainy summer.
II continue to commute 80 miles for my job, working two-day stretches twice a week. So I stay in Fayetteville Tuesday and Friday nights. On my way home Wednesdays and Saturdays, usually at twilight, I stop by the garden, pull some weeds, haul some water if needed, and harvest a couple of peppers, a small bunch of chard, or some beefsteak and plum tomatoes.
As summer goes on, big ugly hornworms destroy the tomatoes, the chard is overtaken by weeds, and the peppers die of thirst (hauling water has lost its charm). For some reason, though, the Asian eggplants keep producing pretty, long purple fruits. By late August, the days are becoming noticeably shorter, so I find myself in the dark one Saturday evening after work, harvesting eggplants with my headlights pointed at the plot.
There is no moon. I turn off the headlights and spend some time just looking up at the starry sparkles against ebony night, leaning back against the car and marveling at the beauty of the country sky. I can hear peepers and bullfrogs through the moist warm night air. I think about the plan I have bought for a passive solar home and where best to site it. It will have a full porch facing the pond on the north side. I imagine sitting in a rocker listening to the night noises.
PPut your hands up!" My heart does a somersault in my chest as I drop my basket of produce and turn to the voice and the sudden light glaring in my face. "What the hell are you doing here?" says the same gruff male voice.
I can't see his face, but I think I catch the metallic gray gleam of a handgun.
"I'm gardening," I answer, my voice squeaky and shaking. "Who are you?"
"Who are you?" he snaps back at me.
"I'm Debbie. This is my land." My voice is rising in volume and sinking in pitch as anger begins to take hold of me. "Who are you and what on earth are you doing here?"
"Uh, I'm Thomas. I live next door, with Brenda."
I'd introduced myself to Brenda one Sunday afternoon over the fence around her pasture. I'd admired her sleek and obviously well-cared for horses and happily agreed to let her ride them around the pond from time to time.
"I thought someone was trespassing. I was trying to help you out," he says, turning defensive, a little bit of whine creeping in. My eyes are adjusting and I can see his narrow-set eyes glinting.
"And you thought you'd shoot them?" I snap. "This is an empty lot. What harm could trespassers do? What's the matter with you?" I realize that I'm yelling at a man with a potentially loaded gun and make an effort to reign myself in.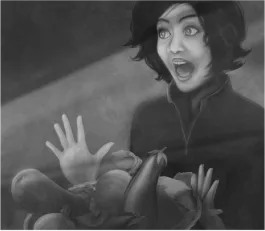 "I was just trying to protect your land," he blusters.
I sigh. There's no point in my pushing for an apology. "Well, I'm fine," I say, "just picking eggplants and looking at the sky. Goodnight."
I abruptly turn away, yank the car door open, and get in. I start the car and, spinning the wheels for a second, pull away. I turn left out of the driveway to head for home. I have to stop, though, pulling into the country store's parking lot, and wait until my rapid breathing and pounding heart return to normal.
It's my place, I think, why should I be the one to leave? I put the car in gear and head back towards the long driveway. I find my dropped basket in the headlights and begin to pick up the shiny purple eggplants, brushing the dirt off on my pants leg.
Hmmm, I realize, there's a lot. I wonder if Brenda likes eggplant. I'll have to share some with her.
I'll have to try giving Thomas something, too. Something harder to give than eggplant.
Forgiveness. ❖