ILLUSTRATIONS BY LINDA COOK DEVONA
IIt's been nine years since my husband, Marty, and I relocated to Towamensing Trails, here in the Pocono Mountains, and we have enjoyed observing nature's wonders from our little clearing in the woods. All sorts of critters pass by our windows—from territorial hummingbirds in Spring to antlered bucks in Fall.
This Spring several single black bears have passed through. Bruno is a really big guy who tramples down the irises and the bleeding hearts, but I am not inclined to run out and chase him as I do the deer and groundhog. (I'm sure you can appreciate why.) The other bears are average in size.
Last week, two medium-sized, roly-poly guys passed by. The bears looked so alike we thought they might be twins. They sat down on the gravel stones back-to-back, turning their heads to peek at each other. Then they started to tap each other with their big claws. They reminded us of our sons, Scott and Brian, when they were kids sitting in the back seat of the car. "Scott's touch-ing me…he's on my side of the seat…Brian's drawing on the window fog." And, of course, the inevitable, "Are we there yet?"
We watched the show, captivated by the playfulness of the twins. Eventually they got up and started down the driveway. They walked single file, like movie stars on the red carpet at the Oscars. Their legs were in perfect sync—left, right, left, right. "Look, Marty," I called to my husband, "they're strolling!" The pair continued strolling towards the woods.
Suddenly, I was jolted out of my mesmerized state by loud music. First a saxophone played, then the 1950s rock and roll group, The Diamonds, began to sing: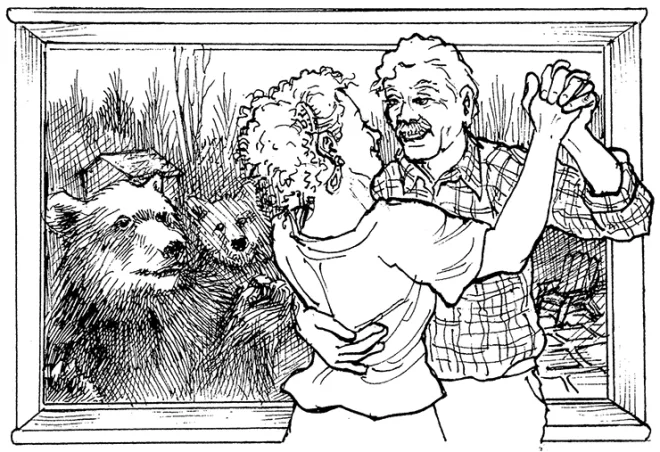 "Come, let's stroll
Stroll across the floor
Come, let's stroll
Stroll across the floor
Now turn around, baby
Let's stroll once more."
Marty came into the room, extending his hand and smiling, and we began to dance. Two 70-something "kids," we giggled as we remembered the dancers on American Bandstand years ago—before we had artificial joints—when we were as synchronized as tandem wheels on a bike.
As Marty and I continued to spin and stroll, I remembered the bears and wondered what they were up to. We stopped, looked out the window—and there they were, watching us!
OK, OK, maybe they weren't. Not really.
But, hey, they should have been. ❖