How do I create an issue?
Let me count the stories.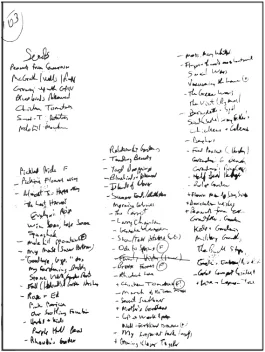 First, I sat down in May and read all 118 manuscripts that had come in by mail and email in the last three months. I accepted 13. Reading, deciding, responding, and buying took a week. A hard week.
I filed them all away under SPRING, SUMMER, FALL, WINTER, and ANYTIME. Then I reopened the file drawer, pulled out the FALL and ANYTIME stories, and started reading again. Two days later, I had chosen 66—that's right, 66—stories that would fit fine and dandy in this issue. (I made a list of them all: See indecipherable scrawl above.) A few were obvious choices for the issue—especially if they're seasonally appropriate—but after that the Dance of Decision begins. I know I want a balance of humor, tenderness, and insight. I know I don't want too many stories on any one topic (pets, pests, grandparents, etc.). But lots of pieces fill those bills. Which ones (beside the three from my wonderful Contributing Editors) should I run?
I wish I could logically explain it. All I can say is each story in this issue called out, "Me! This time, Me!" At some level, I don't choose them; they choose themselves. How else to explain it? Only three of the 13 stories I just bought are in this issue. Another I bought this past February. One I bought in 2014, two in 2013. But I bought the others in 2008…2006…2004…and 1997. (1997? That's 18 years ago!)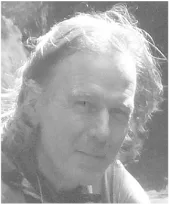 Really, in the end, I'm not sure just how the various stories in this—or any—issue got in.
But I'm very, very grateful they did.
Pat Stone, Editor