ILLUSTRATIONS BY MARILYNNE ROACH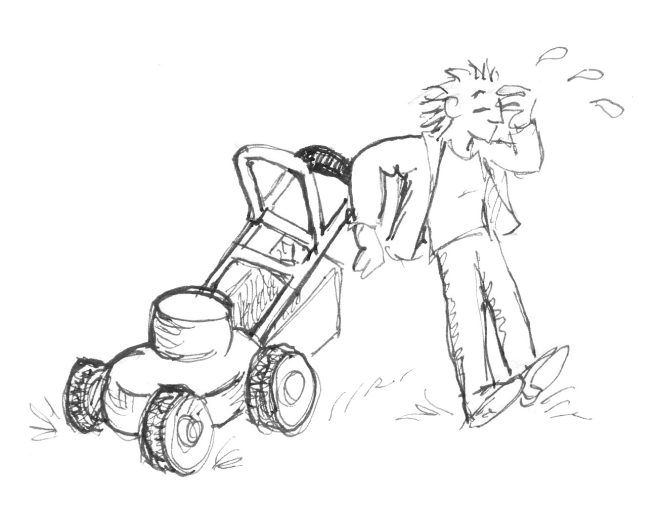 It was a beautiful June morning. I made coffee, went outside, and sat on our bench. I never get tired of looking at our little piece of Eden, but noticed the lawn was in desperate need of a grass-cut. I sipped my coffee. My husband always mowed the lawn. Why not mow it myself? The backyard was fairly flat, so I could at least do that part to surprise him when he gets back.
We'd recently purchased a new self-propelled mower. The machine was black with two orange bars. One bar was above the handle, the other below.
"First things first," I said. "Start it up." I pulled the starter cord. Nothing happened. I then pushed in a bulb I found with the words "Push To Prime" and pressed down the top bar. I pulled the chord, the machine started, and I began to mow.
When my husband got home, he found me on the bench, sweaty and tired, my face as red as a beet.
"You mowed!" he said.
"Yes," I said, "but I liked the old mower better. This new one seems harder to use."
"Really?" he said. He pressed down the top bar and pulled the cord. It started right up. Then he lifted the lower bar and the machine lurched forward. "Seems fine to me," he said.
"I never touched the lower bar," I admitted.
"That's what makes it self-propelled. You must have pushed the mower instead of letting it work for you."
"I guess so," I said, my face still red–but not from exertion. ❖