ILLUSTRATIONS BY MARILYNNE ROACH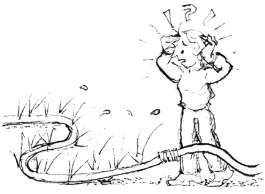 It was 90° out, hadn't rained in days—and no rain was predicted for the week. My blueberry bushes were in desperate need of rain. All the berries were a pale, whitish green. None had turned blue.
I wasn't about to let them dry up on the branches, so I screwed two long hoses together
and dragged them from the outside house faucet to the garden.
They didn't reach. I retrieved the mini 50-foot hose I had recently purchased from the garage. When I attached this small hose to the larger ones, the line reached our 15 bushes easily.
I turned on the faucet, hurried back to the garden—and found that the small hose was spewing water everywhere! Oh, no, I thought. It must be defective. I'll have to return it.
I disconnected the leaky hose and dragged it into the garage to dry. Instead of returning it to the store I'd bought it at the next town over, I drove to the hardware store close to home and bought another, similar one.
Mark, my son-in-law, dropped by right when I got back. I told him my story.
"Is the hose on the garage floor the one that leaked?" he asked. "Yes," I said.
"That's a soaker hose," he said. "It's full of small holes. You're supposed to bury it underground to water."
"I saw the word 'SOAKER' on it," I admitted. "I thought it was a brand name—oh, no!"
"What's wrong?" asked Mark.
I reached in the car, pulled out the hose I had just bought, and pointed. "This one has the same name!" ❖
This article was published originally in 2020, in GreenPrints Issue #122.