ILLUSTRATIONS BY MARILYNNE ROACH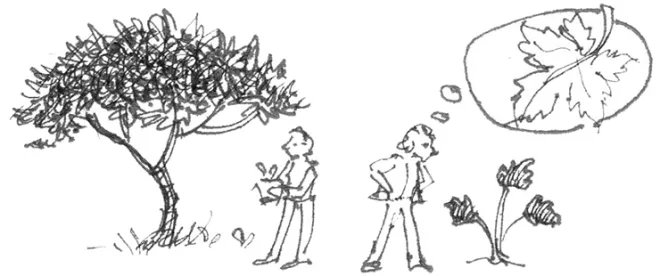 I have passionate opinions about what I want in a garden. One of my lifelong must-haves is a Japanese maple.
It started when my husband and I first married. We lived in his urban townhouse. The tiny yard was mostly concrete but did sport a beautiful Japanese maple that was about ten feet tall.
After a year or two, we bought a house in the suburbs. I did not want to leave the Japanese maple. As luck had it, it was November, and several seeds had fallen from the tree and sprouted. I potted several seedlings, kept them in the garage until spring, and tended them in pots the following year.
By autumn, three were still alive, each about six inches tall. I decided to plant them close together so I wouldn't step on them. Over the next 17 years, they grew into a beautiful, multi-trunked Japanese maple about the same size as the original one.
My husband retired and we moved yet again, this time in early spring. There were some seedlings under the maple. They didn't have leaves yet, but I was sure they were more Japanese maples. I potted them up and put them on the truck to our new home. A few weeks later, to my horror, I discovered they were red maples.
I still don't have a Japanese maple in my new home.
What's your worst gardening mistake? Send it to GREENPRINTS, Broken Trowel Award, P.O. Box 1355, Fairview, NC 28730. If we print it, you'll get a free one-year subscription and our GREENPRINTS Companion CD!
This article was published originally in 2016, in GreenPrints Issue #105.