ILLUSTRATIONS BY MARILYNNE ROACH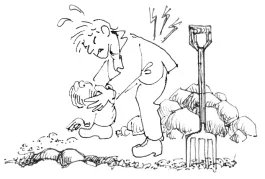 The dream had come true. After several years of apartment living, our first real home was just what we wanted—a 1785 New England farm-house with a stream, fields, and woodlands.
We moved in late in June, too late, we thought, to plant a large vegetable garden. For the summer, I chose a spot along the country lane, open and with full sun. Perfect for now, I thought.
With spading fork in hand I set to work, enthusiastic and joyful. I turned over the first forkful of earth—and a couple of fist-sized rocks. The next forkful yielded more rocks. And the next.
"Wow!" I said aloud. "I know New England soil is supposed to be rocky, but this is ridiculous."
It was a long afternoon. By dinnertime I had a small plot dug up and, next to it, a large pile of rocks.
"How's it going?" my sweetheart asked at dinner.
"Uh, I think the garden may be smaller than we planned."
Still, by summer's end we delighted in our little garden's production of green beans, zucchini, and tomatoes. Then one day an elderly gentleman came to the door and introduced himself as a former owner of our house. We welcomed him in and, later, walked together outside. He noted our garden with amusement.
"That spot used to be a hollow," he told me. "I had a fella dump a couple truckloads of rocks there, and then I covered it with a couple inches of dirt. Musta been 25 years ago."
The next year I marked out a large garden behind the house. I got a rototiller and turned over a few stones here and there.
What's your worst gardening mistake? Send it to GREENPRINTS, Broken Trowel Award, P.O. Box 1355, Fairview, NC 28730. If we print it, you'll get a free one-year subscription and our GREENPRINTS Companion CD!
This article was published originally in 2018, in GreenPrints Issue #114.