illustration by WENDY EDELSON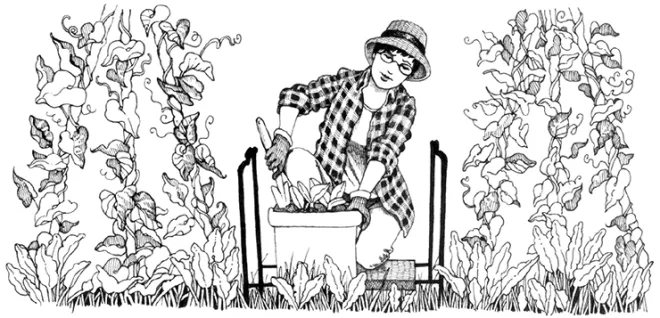 My love of gardening is a major therapy in my life. I have had many injuries from fractious horses and one automobile accident that rendered me permanently disabled at age 33. Talk about a hard pill to swallow! I have sustained injury to every level of my spine—and had eight back surgeries. Chronic pain accompanies me all the time, but planting things and seeing them grow to fruition takes me a long way. I forget about the old body when I'm gardening and get lost in the moment, even if for just a few minutes each day.
I heartily encourage everyone with any kind of problem, be it physical or mental, to get out in the sun and fresh air and grow some-thing, be it one pot or a lovely raised bed. Without this, I doubt I could exist. When I hear the birds chirping, see the kittens play all around me, and get my hands dirty planting a tiny seed, I am fulfilled. When I see a gorgeous flower give of its beauty from a bulb I planted in Autumn, I am elated. It is well worth the pain I experienced kneeling down to plant it. (Mind you, I always make sure there is something sturdy close by so I can get back up!)
The old Chinese adage, "He who plants a garden, plants happiness," couldn't be more true for me.
By Mo Pascoe-Hoyal of Dry Prong, LA.
This article was published originally in 2018, in GreenPrints Issue #115.