ILLUSTRATION BY JEFF CROSBY
In a recent unsettling dream, I was weeding, happily digging in the dirt, when I heard that I was about to be married in a ceremony that afternoon, right here in my garden! My dream-self pulled crabgrass and tried to ignore the bustling workers who raked an aisle through the bachelor's buttons and set up an arched trellis. The most telling—or not so telling—detail was the groom. I didn't know his name, what he looked like, or if he really existed.
The minister spotted me among the impatiens and insisted that I change out of my dirt-stained shorts and T-shirt, as the ceremony would begin in just 20 minutes. The groom was still missing as I wriggled into the wedding dress. Then I caught a glimpse in the full-length mirror and noticed I was still wearing my gardening shoes!
Suddenly I awoke—and realized it was just a dream. What a relief, I thought.
Wedding and weeding: though their spelling differs by just one letter, what a vast field of freedom apart!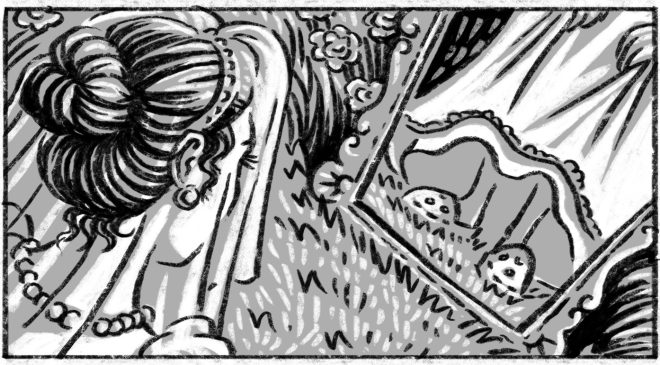 —By Laurie Reaume of Santa Rosa, CA.

This article was published originally in 2023, in GreenPrints Issue #136.