ILLUSTRATION BY RUSSELL THORNTON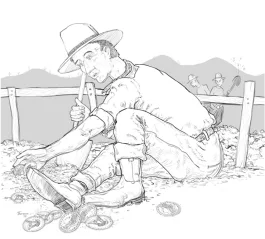 Newlywed in 1945, Walter and I and his whole family moved to a vast farm in rural Arizona. The locals called it the Valley Bank Farm—there was a rumor that bandits had robbed the local bank at the turn of the century and stashed the money somewhere on the farm.
One day Walter was irrigating in the garden when he noticed water ponding up against the metal fence. He took his shovel, began to dig a small ditch under the fenceline, and turned up some broken glass—and a silver dollar. Suprised, Walter picked up the dollar and put it in his shirt pocket.
The second shovelful of dirt had a silver dollar in it, too! Walter thought it must have been the dollar he'd already dug, fallen out of his pocket, until he put it in the pocket—and heard it clink against the first! He went back to shoveling and turned up dollar after dollar after dollar.
Walter was digging up silver dollars! He turned over 20 silver dollars, right in the vegetable garden. He soon took them inside and spread them out on the kitchen table. They dated back to the 1700s and 1800s and were in remarkably good condition. They must have been preserved in a glass jar, and he had broken it. Walter had a valuable find, hidden since the turn of the 19th century.
By the way, Walter's teenaged brothers dug up the whole backyard that afternoon. They worked themselves into a frenzy—and didn't find a dime.
By Barbara Richey of Mesa, AZ.