ILLUSTRATION BY HANNAH ENGLAND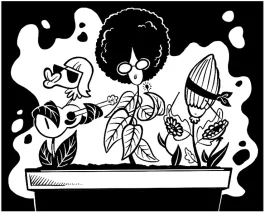 Since two of my greatest loves are gardening and the music of the '70s, I thought I'd plant my very own '70s Rock-and-Roll Garden.
My friends said I was fooling myself with this Grand Illusion of turning a bare patch of Styx and Stones into a Paradise, but I had Too Much Time On My Hands and figured the plants them-selves would Show Me The Way.
The Long And Winding Road of my garden began with a cheery display of Octopus Agave, Abbey Dore Stonecrop, the Ringo 2000 Geraniums, and some Paul's Glory Hosta. I worked Eight Days A Week to get it done and finished just in time—'cause Here Comes The Sun!
Then I decided to Take It To The Limit with a long run of California Poppies, a relatively New Kid On The Block, with a backdrop of Eagle Vine. I planted them on The Border for a Peaceful Easy Feeling and placed a bench there where I could sit and Take It Easy.
I don't have to tell you that a great deal of Blood, Sweat and Tears went into this garden, but it's Made Me So Very Happy. I would like to take it with me When I'm Gone, but you know how it is: You Can't Always Get What You Want.
I Heard It Through The Grapevine that some people don't believe that I really have this garden. They say it's only What A Fool Believes. They say It's Just My Imagination Running Away With Me…
My reply? Give Me Just A Little More Time, And My Garden Will Surely Grow.
—By Susan Coyle of Cincinnati, OH.