ILLUSTRATION BY LINDA COOK DEVONA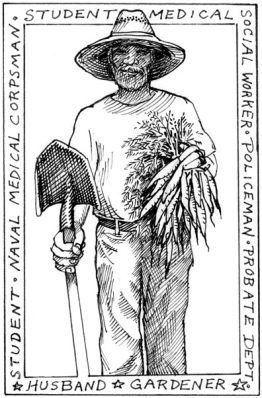 I finished my first year of college in 1959. My GPA was poor, just 1.76. I decided to join the Navy and served four years as a medical corpsman. After my discharge, I went to San Diego City Junior College. One of my first classes was Psychology 101. The professor gave us all an occupational aptitude test. To my surprise, my top two results were farmer and policeman. I'd never thought of being either one.
After graduation, I was hired as a medical social worker, but soon decided that wasn't the job for me. The San Diego Police Department was hiring and, lo and behold, hired me. After six years of that, I worked at the Federal Probation Department until retirement.
Somewhere along this journey, I started gardening. After I retired, my garden got bigger and bigger. This year I have the biggest garden yet—it's practically a farm!
So there you have it: my aptitude test was right. Who cares? I'm happy. I have my garden and my wife.
Ah … I have my wife and my garden.
—By Randy Swanson of La Mesa, CA.