ILLUSTRATION BY CHRISTOPHER REID
Forget fancy restaurants. Forget complicated recipes.
Nothing compares to the breakfast I ate this morning—a hearty serving of red potatoes with green and yellow wax beans fresh from the garden and all boiled together with a dash of oil.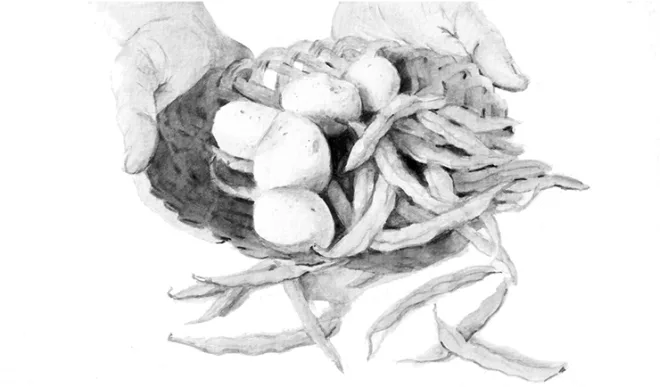 The only extra ingredients needed for the vegetables when I put them on my plate were salt and butter. I watched the yellow pat melt like a tasty lava over the warm, quartered potatoes and hand-snapped beans. When all that remained was a spread of juice, I wanted to lick the bowl (but, polite, refrained).
Afterwards, while sipping a cup of morning coffee, I proudly reflected on my skills as a master chef.
Then, like the butter over those potatoes, understanding washed over me. I wasn't a chef, or at best I was a sous chef. All I had to do was enjoy the buffet. My garden—with sun, rain, and soil—had really prepared the meal.
By Caroline Kalfas of Woolwich Township, NJ.
This article was published originally in 2018, in GreenPrints Issue #114.