ILLUSTRATION BY HANNAH ENGLAND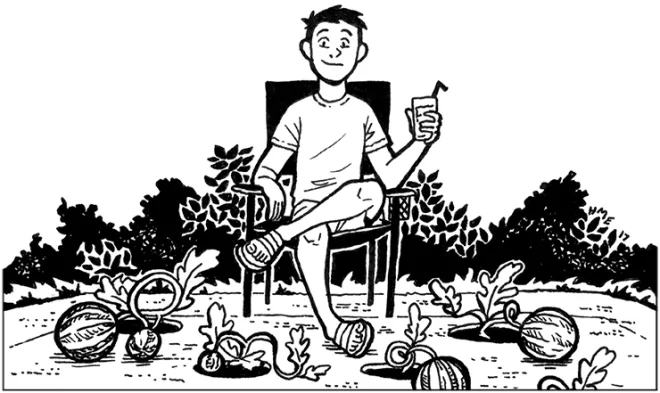 When my son, Arnie, was 15, he decided to grow watermelons—those smaller, round, sweet ones. I pointed to a patch of ground behind our big garden and said OK. He'd had years of weeding experience helping in the family vegetable beds, so he knew what he was doing.
Actually, he more than knew what he was doing. First, he mowed the area close to the ground. Then he dragged in an old rug he'd found in a neighbor's rubbish heap. After positioning the rug, he cut several holes in it, all carefully spaced from each other. He planted two seeds in each hole.
Next, Arnie hauled in an old yard chair and set it at the back of his garden. It was his weeding chair. He would grab a soda and a snack and go sit out there—watching the weeds not grow through his rug! His harvest wasn't very big, about five or six watermelons, but he certainly didn't have to work hard for it!
—By Nancy Lockwood of Streetsboro, OH.
This article was published originally in 2017, in GreenPrints Issue #111.