I love getting gardening gifts for Christmas. If I think back, my favorites have been my hori-hori knife, and any one of my hydroponic gardens. I certainly get a new pair of clippers or pruners each year, and a gift card to the farmer's co-op near our house is always a treat, but my stocking could be filled with twist ties and fertilizer spikes, and I'd be thrilled.
In fact, if I think about this Christmas, everything I have my eye on touches the garden in one way or another! (By the way, gift subscriptions to GreenPrints are available now!) I only wish I lived in a climate that allowed me to garden all year round, but for now I'll take the anticipation of spring after the holidays!
To kick off the twelve days of Christmas, I thought I'd share this little number back from issue 116, called "The 12 Days of (a gardener's) Christmas. I think it's the cutest because the author is offered all the fancy things and in the end, all she wants is … well, you'll find out!
Discover More Gardening Humor
This story comes from our archive spanning over 30 years, and includes more than 130 magazine issues of GreenPrints. Pieces like these that turn funny gardening stories into everyday life lessons always brighten up my day, and I hope this story does for you as well. Enjoy!

The 12 Days of (a gardener's) Christmas
Janet Davis
On the 12th Day of Christmas my true love gave to me
A box of chocolate truffles
A négligée with ruffles
The finest French cologne
A convertible of my own
A necklace made of pearls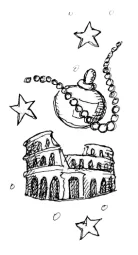 A silver comb for my curls
First-class tickets to Rome
A nine-bedroom home
A full-length ranch mink
A Harley-Davidson painted pink
Dom Perignon to drink
And some Bypass Pruners for my Pear Tree!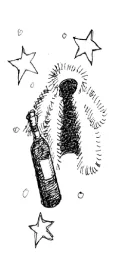 On the 12th day of Christmas I said: "Thanks dear, but you see
I'm allergic to truffles
Look ghastly in ruffles
Cologne makes me sneeze
Convertibles make me freeze
Pearls seem kind of chilly
And the comb just looks silly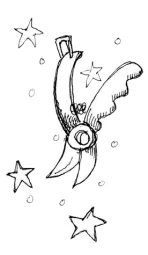 Love Rome, but I've seen it
Nine bedrooms? Who'd clean it?
I could never wear fur
And the Harley? No sir
Champagne is too bubbly
But I'm happy as can be
With the Bypass Pruners for my Pear Tree!" ❖
—By Janet Davis. (You can find more of her humor and other writing at www.beautifulbotany.com.)
Janet Davis, published originally in 2018-19, in GreenPrints Issue #116. Illustrated by Marilynne Roach

Do you have a fun gardening gift story you'd like to share? Leave a comment below, I'd love to hear it!