My garden is my sanctuary. It's where I go if I want some peace and quiet in my day. Especially now that I have a four-year old daughter, finding a place where I can have a little bit of me-time is doing wonders for my mental, spiritual, and emotional health. Don't get me wrong, I love every moment I spend with my kiddo. In fact, she joins in on the gardening fun sometimes! That's why I consider her my gardening buddy—being able to share my love for plants with her is such an amazing bonding experience that I will cherish forever, and I just hope that you too can find your own gardening buddy.
If you've been in this hobby for years and years, and even if you're a Master Gardener, I encourage you to share the love with people who may be a little hesitant to try it out. On the flip side, if you're an amateur starting out in gardening, I strongly suggest you find a mentor you can ask for advice.
Sharing your experience and love for this craft is such a fulfilling gift. We can teach each other new things, share our unique finds, and just grow a community of plant-loving individuals. Doesn't that sound like paradise to you?
If you ever find yourself in a pickle, your very own gardening buddy can be the guiding light that will lead you to the right path.
Take a look at how beneficial it was for Tova Stabin to find a friend and gardening buddy in today's piece, "I Murdered My Peas!"
For More Funny Gardening Mishaps…
This story comes from our archive that spans over 30 years and includes more than 130 magazine issues of GreenPrints. Pieces like these that turn gardening mishaps into everyday life lessons always brighten up my day, and I hope this story does for you as well. Enjoy!

I Murdered My Peas!
By Tova Stabin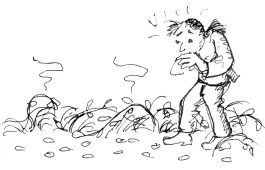 As a Brooklyn Jewish writer, I had never had a garden—until I got a chance to house-sit in rural Washington. The house had a just-planted garden that needed tending. Delighted, I read everything I could about gardening and worked in it every day.
I'd always hated canned peas, but the fresh ones soon became my favorite vegetable. I watered each plant meticulously, gave them manure tea once a week, talked and sang to them, and thanked them daily. They were my pride and joy.
Then one day I noticed that the leaves were looking a bit yellowish-brown and brittle. I gave them more water. I fed them more. I talked to them more. Nothing helped. They got worse and worse. They were dying!
I went to a neighbor's house a few miles away to ask Ruth, a Master Gardener, for help. By the time I got to her house, I was in tears: I confessed that I had killed my peas. I was a murderer!
We drove back to my house. Ruth looked at my peas and then at me—and tried not to laugh. She sat me down and very kindly told me that peas have a life cycle and were just dying back for the season. I had gotten a good crop and now they were dying.
My relief overshadowed my embarrassment. It even made it easier for me to ask more questions. Later that season I asked Ruth why my beautiful, healthy-looking Brussels sprout plants didn't have any sprouts. She made me look under the leaves. Oops! I had a ton! ❖
By Tova Stabin, published originally in 2018, in GreenPrints Issue #115. Illustrated by Marilynne Roach

Did this remind you of a similar garden story you'd like to share? Leave a comment below, I'd love to hear it.