Let me tell you about my journey growing succulents. I am a nurturer, you see, and so, I don't have the best luck with any type of succulent because all they want you to do is leave them alone and I'm just not that person. In fact, one time I bought the most gorgeous cactus, a Candelabra Cactus. It was a whopping $350, and it was six feet tall. It took incredible effort to get it from the shop to my house in one piece, but I was sure that since it was a cactus, I could keep it happy and alive. I know not to water a cactus more than once or twice a year in my house, and they don't play games with coloring and shriveling like succulents do.
Well, spoiler alert, less than a year later, this "cactus" which turned out to be a glorified succulent (pro tip: any cactus in the euphorbia family is a succulent) was dead and literally melting in my house after I gave it a good watering.
This brings me to my next cactus … a real cactus, an Acanthocereus tetragonus 'Fairy Castle Cactus' which I kept alive for five whole years before I murdered it with water. I actually bought it at CVS and mostly kept it by my fireplace where it was happy and dry because I rarely remember to water plants in my living room. It was stunning, and grew from little stubs to almost a foot tall. The thing was, it had these bright and stunning pink flowers on it which lasted the whole five years I had it. Little did I know when I bought it, that someone had glued hot pink flowers on the tops of the cacti, and I didn't realize it until I got home and saw the hot glue.
For years folks would come over to visit and tell me how stunning the flowers were. Most of the time I'd break the news, but for some reason, my mom, who had seen them a hundred times, didn't even mention them until I killed the cactus, and she said, "wow, but the flowers are still amazing!" … Oops!
Which finally brings me to today's short story, "Oops!" about Caelie Wilkes well-nurtured lovely green succulent in her kitchen window. You might be able to guess from the preface what happened, but I think you'll get a kick out of the outcome. Maybe I should stop growing succulents and use her method instead!
For More Funny Mishaps Growing Succulents, Flowers, Veggies, and More
This story comes from our archive that spans over 30 years and includes more than 130 magazine issues of GreenPrints. Pieces like these that turn gardening mishaps into everyday life lessons always brighten up my day, and I hope this story does for you as well. Enjoy!

Oops!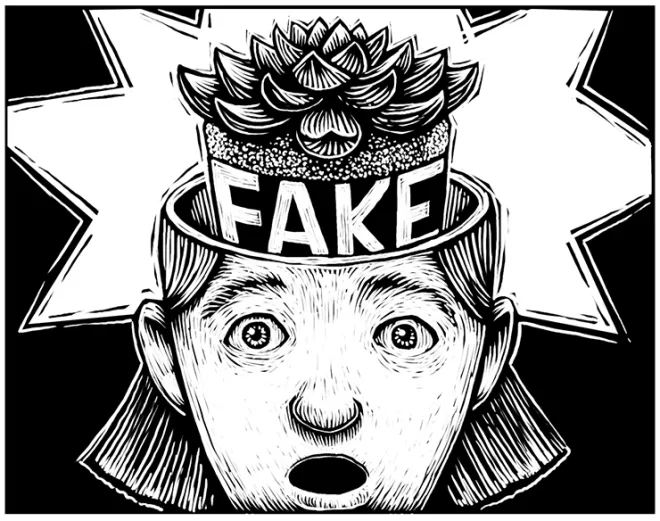 For two whole years, Caelie Wilkes nurtured a very lovely green succulent in her kitchen window. She watered it, wiped dust off its leaves, and forbade anyone else from caring for it. "It was full, beautiful color, just an overall perfect plant," Wilkes wrote in a Facebook post. So imagine her dismay when she pulled up the succulent and realized it was plastic, rooted in Styrofoam with sand glued to the top. "How did I not know this?" she wondered. "I feel like these last two years have been a lie." Wilkes suffered some ridicule on social media, but her local Home Depot reached out with some real, living succulents that Wilkes can shower with love and attention. ❖
From the feature, "News of the Weird,", published originally in 2020, in GreenPrints Issue #123. Illustrated by Jeff Crosby

Not everyone is good at growing succulents, but maybe that's why they're so cheap. Try, try again!
Do you have luck growing succulents? Did this remind you of a similar garden story you'd like to share? Leave a comment below, I'd love to hear it.