What attracted me to this story initially isn't the funny title, it was actually the hosta-hater in me. I've always wanted to know how to kill hostas. Let me explain. When we moved into our home several years ago, it was clear to me that the former owner loved hostas. She had done the most amazing job curating beautiful perennial gardens that bloomed in every season, but the goshforsaken hostas were everywhere. And I mean it, there were several hostas in every corner of the yard, between the bushes, and they even had their own dedicated hosta hill.
My first attempt to take them out was when we built raised beds. Not just any raised beds, but I'm talking raised beds over two feet tall and filled to the brim with soil. I offered them up online in my local "buy nothing" group. People wanted them, but nobody showed. Eventually, I just hacked them down on Hosta Hill and dug up the space to level the area for my new garden.
The garden was covered with a layer of weed barrier, stone, and seven two-foot+ tall raised beds.
But do you think weed barrier, stone, and two feet of soil and darkness stopped those hostas? No, no they did not. I didn't mind them popping up behind and around the raised beds, particularly in the less-manicured back, but when they popped up in the beds themselves, it was war. It is war. So now I spend all summer spotting and pulling new hosta growth from my beds, and I'm not sure it will ever end.
Now if I'd read Hannah Stewart's story "How I Committed Hostacide" before, I might have just used her technique on how to kill hostas! But it's been years since she's written this story. I wonder if they've come back since the assassination?
More Stories About Gardening Mishaps
This story comes from our archive that spans over 30 years and includes more than 130 magazine issues of GreenPrints. Pieces like these that turn gardening mishaps into everyday life lessons always brighten up my day, and I hope this story does for you as well. Enjoy!

How I Committed Hostacide
By Hannah Stewart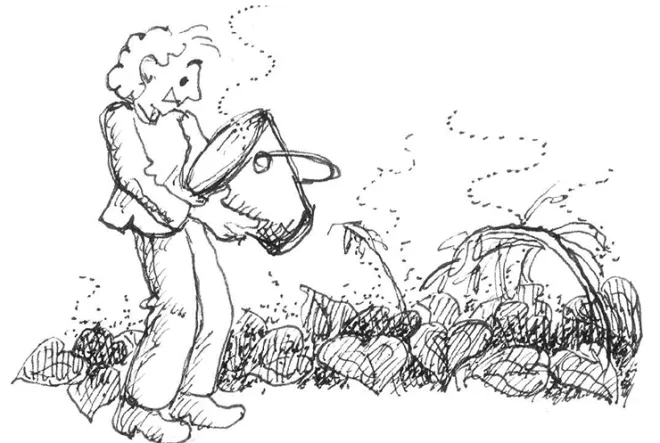 I needed a bucket. I know it's not the greatest excuse, but it's the only one that I have. We have five-gallon buckets laying around everywhere, and they're incredibly useful except for when you are tripping over them.
I needed a bucket to dig compost, so I went into the garage to look. I noticed that my hostas under the overhang of the porch looked awfully dry, so I made a mental note to water them. Soon.
In the garage, I found a bucket with about four inches of water in it. "Perfect," I thought, and dumped it out on my poor, dry hostas.I got a bucket, and the hostas got their water.Everyone was happy, right? Right.
OK, wrong.That's when I smelled kerosene. Yep! My dad had drained some kerosene into a bucket that morning, and I didn't know he'd left it in the bucket. Too late! It had already soaked into the ground. And, yes, the hostas died.Oh, well. Hostas don't grow well for me, anyway. Maybe because I water them with kerosene.
But, hey, you don't always know the reason why. ❖
By Hannah Stewart, published originally in 2020, in GreenPrints Issue #123. Illustrated by Marilynne Roach

Have you ever needed to know how to kill hostas? Do you have a similar story that this reminds you of that you'd like to share? Leave a comment!