I think that in our lives, we go through stages where we wonder what our calling is and what our purpose is. I never thought of myself as a professional gardener, but considering I love to garden and spend my days writing about my own gardening and everyone else's joy of gardening, I think maybe I am!
For some, high school leads to trades, and for others, they pursue further studies to gain more knowledge in the career they want to pursue. Then for many, they go straight to the real world to gain valuable experiences. Regardless of the path we choose, there's usually only two things that impact our decision: passion and practicality.
We ask ourselves, "Should we follow our passions and do something that we love?" Or should we find reliable jobs that will make us financially stable? Many people think that it's always a one-or-the-other situation, but in reality, passions and practicality are not always mutually exclusive.
If you're like me—with a deep love for all things gardening—and want to find ways to earn from it, then I encourage you to explore your options. Heck, you could just start making videos and posting them, and wake up a social media influencer making the big bucks. Or, you could become a Master Gardener, start a nursery, or become a gardening instructor.
In the old days, options were limited. Folks had to make tough decisions on what they wanted to be—and more often than not, they always chose a path that was real and practical. If you want to get a glimpse of what it was like back in the 60s to 70s, I think you'll enjoy today's story, "Policeman/Farmer … Me?" I like how it turned out. After all, there's no rush to be a professional gardener or even an amateur one. When the time comes, it comes!
From One "Professional Gardener" to Another
This story comes from our archive that spans over 30 years and includes more than 130 magazine issues of GreenPrints. Pieces like these that turn gardening mishaps into everyday life lessons always brighten up my day, and I hope this story does for you as well. Enjoy!

Policeman/Farmer … Me?
—By Randy Swanson of La Mesa, CA.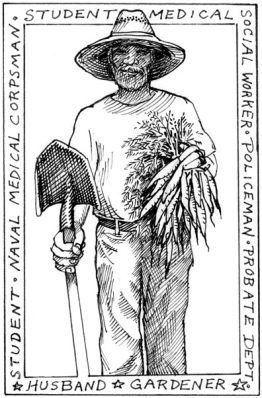 I finished my first year of college in 1959. My GPA was poor, just 1.76. I decided to join the Navy and served four years as a medical corpsman. After my discharge, I went to San Diego City Junior College. One of my first classes was Psychology 101. The professor gave us all an occupational aptitude test. To my surprise, my top two results were farmer and policeman. I'd never thought of being either one.
After graduation, I was hired as a medical social worker, but soon decided that wasn't the job for me. The San Diego Police Department was hiring and, lo and behold, hired me. After six years of that, I worked at the Federal Probation Department until retirement.
Somewhere along this journey, I started gardening. After I retired, my garden got bigger and bigger. This year I have the biggest garden yet—it's practically a farm!
So there you have it: my aptitude test was right. Who cares? I'm happy. I have my garden and my wife.
Ah … I have my wife and my garden. ❖
—By Randy Swanson of La Mesa, CA., published originally in 2021, in GreenPrints Issue #127. Illustrated by Linda Cook Devona

Do you consider yourself a professional gardener? Or maybe even more, a farmer? Did this remind you of a similar garden story you'd like to share? Leave a comment below, I'd love to hear it.