While reading today's story, I am reminded of my own children when they were young, and how they were always watching and listening, even if they weren't particularly interested in what we were doing. Gardening with kids is really no different.
With no handheld technology in those days, it was quite easy to get children interested in things like collecting maple sap, or germinating seeds, but many children these days prefer the quick satiating shows on YouTube over waiting weeks for seeds to grow into seedlings, and then months before those seedlings produce a lick of flowers, veggies, or fruits.
I don't blame them, I don't particularly enjoy watching paint dry, and with what kids are stimulated by 24/7 these days, there's just no time for waiting or wonder.
Today's piece, Kids and Gardening is a funny take on two parents who love to garden, their devotion to trying to get their kids to like it too, and how gardening always brings us back home, even as adults, if our parents sow those memories for us. You never know, they might sprout when you least expect them to!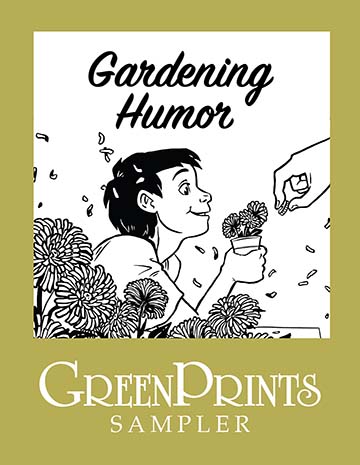 Download our FREEBIE, GreenPrints Sampler: Gardening Humor today and get stories that highlight the silly side of gardening, giving you a chance to remember that gardening is always a work in progress.
Planting Memories for Later
This story comes from our archive that spans over 30 years and includes more than 130 magazine issues of GreenPrints. Pieces like these about gardening with kids always brighten up my day, and I hope it does for you as well. Enjoy!

Kids and Gardening
How do you get the one interested in the other? It's a mystery to me!
By Gerald Burke
My first gardening experience was a memorable moment in my life. It took place when I was five years old. With reckless abandon, I took a hoe and made a smooth and inviting road for my toy truck—right through my mother's pansy bed. It was memorable because when she saw what I had done, she instantly introduced me to the no-no's of gardening and to useful garden work: weeding, cultivating, planting, and transplanting.
Years later, when our own children appeared on the scene, my wife, Mary, and I were sure they would inherit our own love for gardening. That was in the late 1940s and early 1950s, when GIs of World War II were returning home (to California in my case), and like many others I was planting, digging, harvesting, and enjoying the half-acre we bought in the suburbs—our first home.
We put in a lawn in front and back for the kids to play on. Elsewhere we planted a big garden, two peach trees, an apricot tree, grapes, blackberry bushes, a vegetable garden, flower beds, and shrubs.
With a magnificent disregard for reality, we expected the kids would take an interest in gardening and gladly hoe, weed, plant, and gather. (This was before malls, the internet, 24-hour TV, video games, cell phones, iPods, tablets—I don't how anybody gets a kid interested in gardening today.) We suggested, we ordered and commanded, we cajoled and rewarded, and we praised the produce that filled the dinner table. We reveled in the beauty and smell of the freshly mowed lawn, the rose bed in full flower, and the ripening grapes hanging from the vines—all as sights of enduring pleasure and beauty to be remembered forever.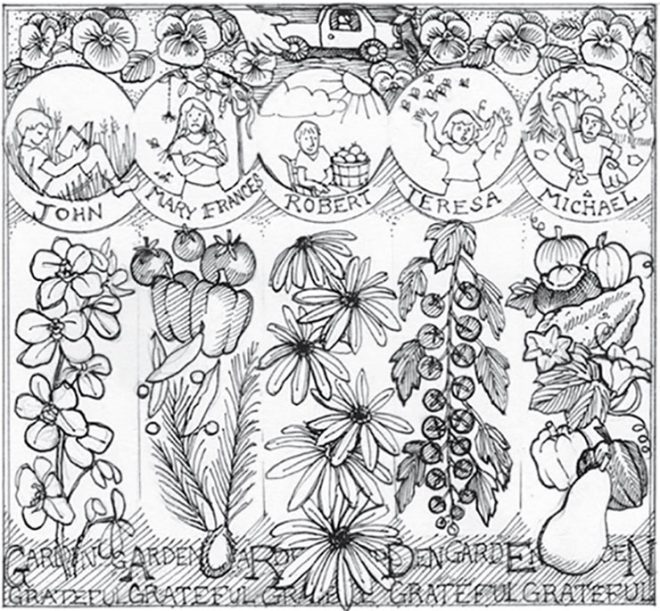 It didn't work. Not one whit.
Eldest son John was found one day curled up reading a book, hidden in the weeds he was supposed to be removing. Oldest daughter Mary Frances complained nonstop that there were bugs, spiders, and "tree-climbing" snakes lurking about in the garden.
Youngest daughter Teresa, commissioned to pick black-eyed peas, raced back into the kitchen declaring she'd never go out there again: There were yellow jackets all around and they might bite her. Youngest son Michael complained bitterly about the trees blocking his field when he was kicking the football or playing catch with the baseball—and about the vegetable garden taking up too much space. Middle son Robert, handicapped with cerebral palsy, enjoyed having his picture taken with a basket of ripe tomatoes, but he wasn't into picking them himself.
So we gave up trying to make gardeners out of those wonderful children. We loved them dearly from birth through first grade and high school, from first date to prom, from college to jobs, to marrying and having kids of their own. As they became adults, we had to enjoy them from a distance, since they had all moved to other cities. Their letters and phone calls made us smile and sometimes cry.
Then, one day years later, as we finished reading a letter from Teresa asking about the suitability of a small pine tree she and her husband had planted, a thunderous thought hit us:
These kids are all gardeners!
John, in rainy Seattle, regularly started seeds in the winter under lights, grew orchids, and asked for advice about good short-season tomatoes. Mary Frances in coastal California had a garden with fruit trees, several varieties of peppers, tomatoes, and sugar peas. She even asked if she might have a cycad from the pups I was starting.
Youngest son Michael, in Massachusetts, immediately dug up a portion of the back lawn at his new home for a vegetable garden, and was asking how to store winter squash. Even Robert, for whom gardening was physically difficult, had dug up a small plot in front of his handicapped apartment. He'd gratefully accepted some Gloriosa Daisy plants I had started.
And Teresa, who hated the yellow jackets in the garden, has had a tomato named for her by the family—the Teresa Tomato—a cherry tomato that showed up as a volunteer in her garden and turned out to be the sweetest and most prolific cherry tomato any of us has ever grown.
Now, as we tend our own garden and cherish the communications from these kids, we wonder how on earth this happened. What changed? How did they ever become gardeners?
We can't even guess. But we are grateful. ❖
By Gerald Burke, published originally in 2016, in GreenPrints Issue #105. Illustrations by Linda Cook Devona.

Did you enjoy this story about gardening with kids? I'd love to know how your kids take to the garden.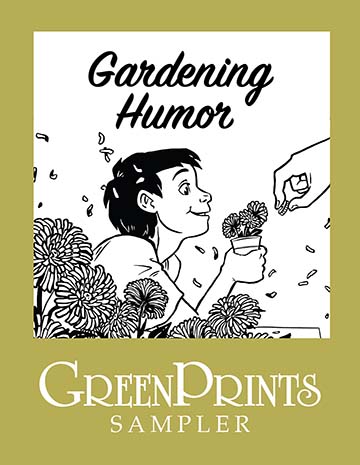 Download our FREEBIE, GreenPrints Sampler: Gardening Humor today and get stories that highlight the silly side of gardening, giving you a chance to remember that gardening is always a work in progress.