I know! You're probably reading that sentence above and thinking we have all gone off the deep end here. But don't hit that unsubscribe button yet! Hear me out, because the perfect garden for meditation can take many different forms.
Some gardens, like a Japanese rock garden or your local botanical gardens, are ideal for taking a break from the world and finding a calm space to let your mind be still. But I'm here to tell you that a garden full of weeds can do the same thing, albeit in a slightly different way.
Sometimes, meditation comes from doing rather than not doing. Think about some of those detailed, repetitive crafts or arts where you get into your rhythm and your mind can relax. That might be knitting a scarf or sharpening your garden tools. You don't have to think about what you're doing, you just do it.
It's the same thing with weeding. Which is why a garden full of weeds is the perfect garden for meditation, if you ask me. I'm pretty sure Annette Ahrens would agree with me. In today's story, Weeding My Heart, Annette shares how weeding her garden gives her a sense of renewal and control in a world that seems full of chaos and stress.
This reflective story helped me remember just how important it is to appreciate all the aspects of gardening, as even the weeds can help us on our journey. I hope you enjoy it as well.
Clear Your Mind In the Written Garden for Mediation with More Stories of The Way Gardens Can Help Us Heal
This story comes from our archive that spans over 30 years, and includes more than 130 magazine issues of GreenPrints. Pieces like these that turn stories of healing gardens into everyday life lessons always brighten up my day, and I hope this story does for you as well. Enjoy!

Weeding My Heart
Seeking, and finding, renewal.
By Annette Ahrens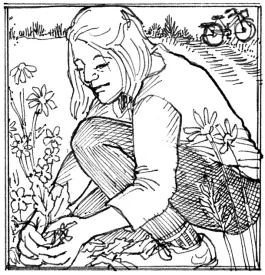 It's been a long day. Caring for Mom, who has advanced dementia, makes every day a long day; but today has been particularly trying. I know I need to get out for a while to restore my energy so I can continue to patiently and lovingly attend to her physical, spiritual, and emotional needs. My wonderful husband says he will stay with Mom while I go out to enjoy the early evening air.
I decide to go for a bike ride. That always refreshes me. Usually a few minutes into my ride, I am able to take a deep breath, all the way down to my belly. Not today. I bike for 15 minutes, but I'm too emotionally and physically worn to ride any more. That deep, renewing breath doesn't come.
I park my bike at the top of the drive and notice some weeds growing in the flower bed. I'm not ready to go into the house yet, so I pull a few weeds, and then some more. I don't mind pulling weeds. It puts some order into my life, a feeling of accomplishment. It clears my mind, then allows me to reflect and pray.
Weeding has always helped me to appreciate the beauty of the garden. Today it helps me appreciate the beauty of caring for Mom.
Soon the flower bed is weed-free. Chaos has been eliminated, order has been restored—not only in the garden, but in my heart, as well. I have taken a breath all the way down to my belly.
I go back into the house renewed. Ready once again to enter into the beauty that awaits me. ❖
By Annette Ahrens, published originally in 2020, in GreenPrints Issue #121. Illustrated by Linda Cook Devona

Do you find weeding to be meditative and peaceful? Or is there another gardening activity that gives you the same feeling?