In the Winter, I start to get the itch to start planning a garden extra early. Sometimes it's only a few days past the holidays and I'm already waiting at the mailbox every morning for seed catalogs. I love that feeling of awaiting the Spring, but let's admit it – it's painful to wait!
When it's cold out and we are getting flurries, all I'm doing is sitting by the fire planning out my flower and vegetable crops. I love a good perennial garden because it's relatively easy to maintain, but I also love filling gaps with annuals like Dahlias and Nasturtiums, and even some Marigolds around my vegetable garden as a trap crop.
Then there's the vegetable garden. I draw out my beds, remind myself what was planted where, and pick new spots for them. I delight in thinking about crop rotation and where my beans are needed most to repair soil, and whether my tomatoes will get enough sun in their new placement. I must draw and re-draw these plans all Winter, and when Spring comes, I forget it all and come up with something new.
That process of planning a garden is what makes gardening fun for me, I love to think about the Spring garden and plan for it while I wait. But in today's story, Eight Volunteer Pumpkins, writer Suzanne L. Simpson tells us of the time she had an injury right before the season was kicking off, and missed out on eight weeks of the season. As you might be able to tell from the title, she did get a small crop that year, but I love how thinking about her garden got her through recovery, and in the end, was there waiting for her when she returned home.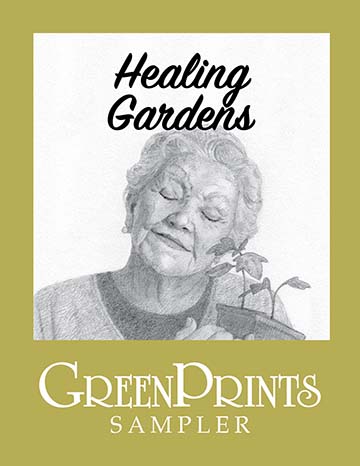 If You Love Planning a Garden, You'll Love This Story
This story comes from our archive that spans over 30 years and includes more than 130 magazine issues of GreenPrints. Pieces like these that inject the joy of gardening into everyday life lessons always brighten up my day, and I hope it does for you as well. Enjoy!

Eight Volunteer Pumpkins
And how they welcomed me home.
By Suzanne L. Simpson
The day my husband and I moved to our new home in Maryland, I fell off the moving truck and received a severe head injury, not the welcome to the neighborhood I expected. It was Spring—I had plans! There was new dirt to dig, native plants to get acquainted with, a new zone to grow in. Instead, I was admitted to a nursing home for rehabilitation and placed in room 16B, right across from the nurses' station.
What was I doing there? I was a youngster—just 55! But I couldn't walk, and I was going to need hours and hours of therapy if I was to become ambulatory again.
Eager to be released as soon as possible, I went at my therapy full-throttle, my garden always on my mind. My husband was my only regular visitor; our family and friends were miles away. New church acquaintances brought me a daily devotional calendar, so I could pray the days away until independence. But most of the time I was alone, confined to my bed. Aching for companionship and conversation, I often told the nursing staff about gardening topics from aeration to zucchini. The nurses' station was always noisy and busy, especially during shift changes, even the one at 10:45 p.m. I could hear their conversations—loud, jovial, sometimes confrontational.
One night one nurse said to another, "Hey, Robin, 16B, whatever you do, steer clear of all gardening topics. I mean, she will go on and on. She couldn't plant this and it's too late for that. And, oh, those flowers Miss Pearl and Lucy got, she was growing them where she just moved from. I mean seriously, blah, blah, blah . . . "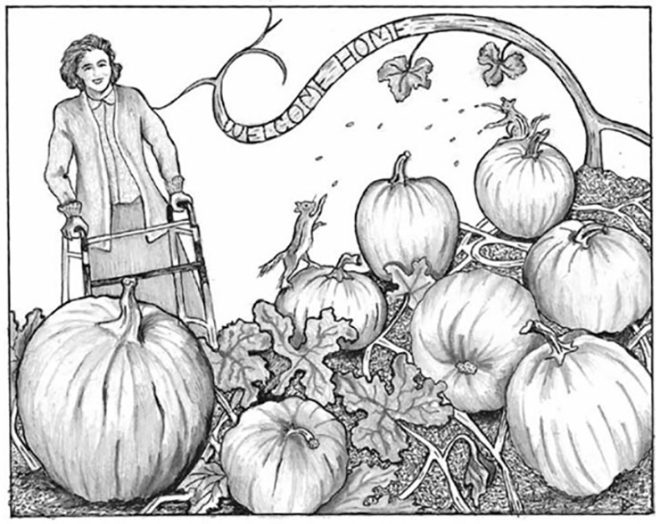 When I heard snickers and agreement from other nurses, I was heartbroken—but it also bolstered my determination to get free of my wheelchair and back into the dirt. I redoubled my efforts in the therapy room. Soon I was awarded a walker.
Several days later, a smiling nurse checked my vitals, flipped through some papers, and then paused. "Mrs. Simpson," she said, "you ready to bolt on out of here like them plants you talk about?" I said loudly, "Oh, my unplanted gourds, yes!"
I made it home, but needed continued therapy and care before I could walk unassisted. Finally the great day came when, using my walker, I made a trip to the garden. So much had grown! True, it was unkempt, but it was green and lush and alive!
I spotted volunteer pumpkins growing in my compost pile. I love compost volunteers. I looked closely and, with tear-filled eyes, counted eight perfectly round pumpkins soaking up the sun.
There was one pumpkin for each week I couldn't garden. Eight weeks, 56 days, eight pumpkins.
At least my plants understood me. ❖
By Suzanne L. Simpson, published originally in 2019, in GreenPrints Issue #118. Illustrations by Blanche Derby.

Did you enjoy this story about planning a garden? Leave a comment below with your own story!