As the kids say, "I found my people" when I read today's story from Barbara Baker, where she shares her joy of gardening in the form of a watering can and rain barrel. As a self-professed watering can collector, I have stared down the face of many watering cans. Some watered too aggressively, others with spouts and caverns too small. There is, might I say, a mighty fine collection of watering cans at my house, and I really do believe they all have their unique purposes.
I haven't gone so far as to name them yet, but maybe that day will come and I won't be ashamed to say so. They are, after all, my trusty friends who I wake up to on mornings, to saturate seedlings and tender container gardens. When my vertical lettuce garden is showing signs of heat stroke in late Spring, I know a shower from my trusty friends will give them life again.
In today's story, Watering Cans and Rain Barrels, author Barbara Baker shares my kinship with watering cans, as well as her rain barrels, which she uses to fill them. It brought me great joy to read this one, which is why I'm eager to share it with you today in our happy season.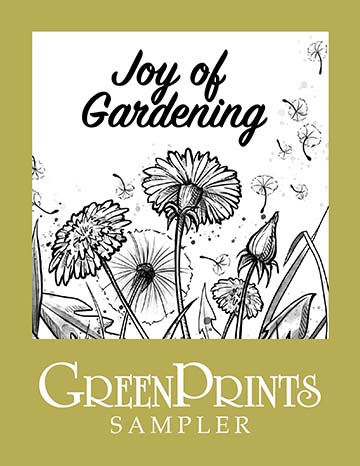 Download our FREEBIE, GreenPrints Sampler: Joy of Gardening today and get stories that highlight the joys of toiling in the soil, knowing that the process of gardening is just as important as the harvest at the end of the season.
Have You Found the Joy of Gardening in a Watering Can Too?
This story comes from our archive that spans over 30 years and includes more than 130 magazine issues of GreenPrints. Pieces like these that inject the joy of gardening into everyday life lessons always brighten up my day, and I hope it does for you as well. Enjoy!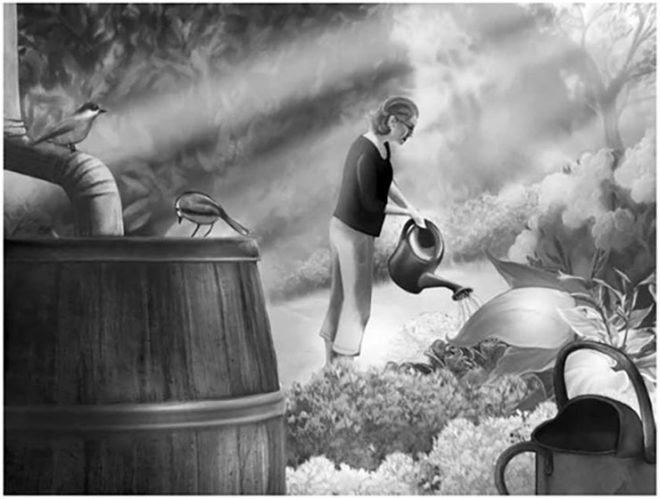 Watering Cans and Rain Barrels
And the peace they bring me.
By Barbara Baker
I have become a lover of watering cans. And of rain barrels. As the dawn begins to creep through the drawn curtains, I resist the urge to snuggle under the covers for a few more minutes of early morning dreaming. The cat is meowing for breakfast and the birds have begun their morning songs. But it is the lure of the rain barrel and the watering cans that gets me out of bed.
In comfortable old garden clothes and sloppy sneakers, I carry my battered watering cans around the corner of the house to the rain barrel. It is a nondescript black plastic container with a spigot near the bottom. The open top is covered by screening. When the water level is high enough, the screening provides a place for birds to take baths and for them and chipmunks to get a drink.
As I place a watering can under the spigot and turn the handle, my morning reverie begins. The gentle sound of water beginning to fill the can centers me. I am aware of the smells around me. This morning it is the fragrance of summer honeysuckle and pine. I breathe in the coolness of morning and fill my lungs with the clear morning air. I close my eyes, breathe, and listen to the water splashing ever so slowly into the old can. A prayer comes. Sometimes a new thought brings a smile or a tear.
When the can is full, I repeat the process with the other can waiting patiently to be filled. With each one a deeper peace invades my soul.
Then it is time to begin the trek to the garden. A can in each hand, I straighten and begin to cross the yard to the waiting plants. No sound of spraying hoses or oscillating swish of a sprinkler here—there is only the slow, careful dripping of tiny clear drops on dry earth. It is a long process, this system of watering. I walk carefully between the rows or reach up to the hanging pots. Containers on sawhorses and the raised beds each have their turn. When one watering can is emptied, another gets put to the task. Some mornings I have to return to the rain barrel and repeat the filling process. I know the plants are grateful for the water. I am grateful for the time to slow down, savor, and awaken all my senses. Of course, there are mornings when I want to hurry and speed things along. It is then I remind myself of the preciousness of being in the moment and still enough to become aware. My plants did not hurry to sprout. Neither will they hurry to grow, blossom, and bear fruit. It will all take time.
In this world of instant things, it is good to take time to tend a garden with a rain barrel and old watering cans. ❖
By Barbara Baker, published originally in 2018, in GreenPrints Issue #114. Illustrations by Christina Hess.

Did you enjoy this Joy of Gardening story? Share your own stories in the comments below.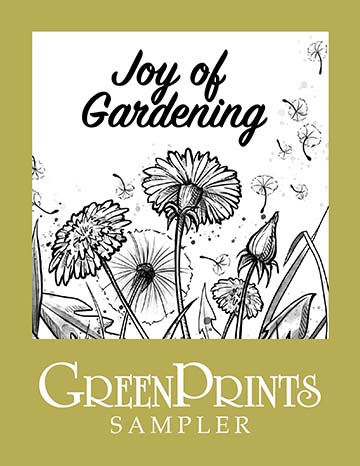 Download our FREEBIE, GreenPrints Sampler: Joy of Gardening today and get stories that highlight the joys of toiling in the soil, knowing that the process of gardening is just as important as the harvest at the end of the season.