Today's story begins how most of my weekend mornings do, hanging by the seed rack at my local gardener's co-op. Well, at least April through June-ish. In An Unexpected Compliment, the author Gerald Burke worked for Burpee for 35 years. In his story, he is looking at Burpee seeds and meets a woman who also worked for Burpee for some time. She recommends Burpee seeds to him, but unbeknownst to her, they actually worked together, she just doesn't know it yet. Ah to work in gardening, what a small world!
I love the punchline in this story, but can we talk about how two former employees still like and buy Burpee seeds? The author might not know it, but that might be my biggest take-away from the story: people who worked for Burpee still buy Burpee seeds. It made me look into them, and did you know they're the creators of the original 'Iceberg' lettuce (1894), the first white marigold (1976), and the biggest beefsteak tomato ever bred (2014)?
Plus, their original historic home at Fordhook Farm in rural Bucks County, Pennsylvania, is still a trial ground for coming breakthrough varieties. I've always liked Burpee because their germination rates are great in my garden (though I do dabble with many seed providers because it's fun). I also like that I can order seedlings and saplings when I need to, and they arrive right when they need to be planted, in secure packaging.
Didn't expect this to be a love-fest for Burpee did you? But it's always nice to see when people work in gardening and still buy the product of the company they work — I think it says a lot!
Now getting back to today's story about our Burpee veteran Gerald Burke, just wait and see what happens with this chance encounter.
Get More Stories About the Joy of Gardening
This story comes from our archive that spans over 30 years, and includes more than 130 magazine issues of GreenPrints. Pieces like these that turn the stories of gardening into everyday life lessons always brighten up my day, and I hope this story does for you as well. Enjoy!

An Unexpected Compliment
By Gerald Burke of Atascadero, CA.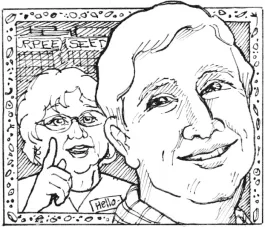 It was Saturday and I was standing at the Burpee seed rack in a local big box store. I'm retired now, but I spent 35 years in the seed business, 29 of them with Burpee. I still enjoy poring over a seed rack.The store greeter, a pleasant-looking lady past middle age, walked over to me.
"I always liked Burpee Seeds," she said. "I even worked for Burpee down in Southern California years ago."
"Oh," I said. "What did you do there?" I didn't recognize her.
"I worked on the machines that filled the seed packets. They were terrible machines, always breaking down."
"That must have been aggravating."
"It was, and when our deparment supervisor couldn't fix a machine, he had to call our plant superintendent—he was the only one who could get those crazy machines running again. My supervisor said that man would sometimes come back and work until midnight to make sure a machine was working right."
"That's real dedication," I said.
"Everyone liked him and said he was a good boss. He eventually became the manager there. I can't remember his name, though."
I headed off to get the building supplies I'd come for. On the way out, I ran into the lady greeter again.
"I just remembered his name," she said, "The nice man who used to fix the machines at Burpee."
"Oh?"
"Yes. It was Gerald. Gerald Burke."
I smiled all the way to my car. ❖
By Gerald Burke of Atascadero, CA., published originally in 2016, in GreenPrints Issue #105. Illustrated by Linda Cook Devona

Do you work in gardening? Where do you get your seeds? I buy way too many every year, how about you?