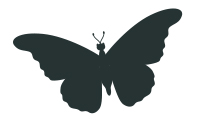 HHaving beautiful butterflies fluttering around your garden is a sight to behold. Not only are they lovely to look at, but having them in your yard can also provide significant benefits for the environment. And you can start your own butterfly garden right now!
GreenPrints announces the availability of our Butterfly Garden Collection Kit with these benefits:
You get everything to plan your own butterfly garden, including what butterflies seek in a garden.
You get planting charts and a list of plant profiles for the flowers most likely to attract butterflies.
You get gorgeous printable ArtPrints that include meaningful quotations and are suitable for framing, along with companion printable notecards of the ArtPrints, so you can send messages to family, friends, and loved ones.
You'll learn all about butterflies with this kit! For example, did you know that most butterfly larvae eat many different types of plants, but some are pickier and will eat only one type? Monarch butterflies eat only milkweed, and the Regal Fritillary butterfly eats only violets. And to help adult butterflies find food, you need to plant flowers of different heights, colors, and bloom times. You can make butterfly bait stations with fruit and sap to attract them!
Download the Butterfly Garden Collection Kit right now.
---
All Access Members, Download Here
Not an All Access Member yet? Join Now