I want to share my experience with GREENPRINTS. I was a subscriber, but then things went no so good for us. I canceled my subscription to save some money. It was not a good decision—I missed GREENPRINTS so bad. I renewed my subscription. I receive my first issue today. I cried when I saw it in my mailbox. It was like seeing an old friend. GREENPRINTS brings so much peace, calm, and relaxation to my life.
—Olga Williams, Jacksonville, AL

I took my Winter issue to the doctor with me and forgot it in my car. I just found it today—a day full of severe physical pain and exhaustion—and I can't tell you how happy it made me. Better than any pain medicine! Thank you for this invaluable dose of gardening happiness.
—Heather Black Southgate, MI

I'm VERY impressed by the quality of the illustrations in GREENPRINTS. Both the covers and story illustrations are uniformly excellent. Congratulations to the artists and you for recruiting them!
—Bert Katzung San Rafael, CA

Thank YOU, Bert, for your kind words. I use 14 different artists each issue, from across the U.S. and Canada, and am deeply grateful for the gift their art is to the magazine.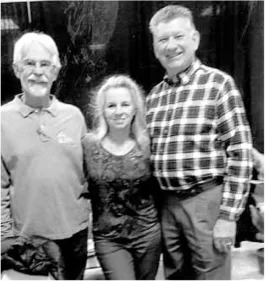 Thank you for the issues and flyers you sent us to share at our garden show. We made many more people aware of our club that day—and hope-fully sent some new subscribers your way!
—Larry Hoffman (in the plaid shirt), Muskogee, OK

Readers, I am glad to send flyers and sample issues for you to show other gardeners. You can help: Become a GREENPRINTS Guerilla!

Your magazine is more than a magazine. It is a destination, a place. When I read the authors' stories, I am transported right into their gardens with them. I can see them clearly even from my jail cell. Gardens sing the most beautiful songs—and I hear the music in every story I read in GREENPRINTS.
—Bobby Bostic, Cameron, MO

Bobby's own moving story, "The Prison Garden," ran in Issue 108.

Thank you for continuing to produce such an inspiring publication. I subscribe to only two magazines—yours and National Geographic. You're right up there with the big guys!
—Kapua Janai, Waimea, HI

No matter what I do or read at the end of the day, the very last thing I do is read something from GREENPRINTS. It calms me, puts me at peace, makes me sleep well, and helps me start the next day on a positive note.
—Sharon Taylor, Fremont, CA

FAMILY FOOTNOTE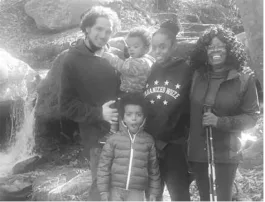 Becky and I got to see most of our family in AZ over Christmas (photo, p.3). Our son Nate's family couldn't make that trip, but fortunately they came home for Thanksgiving! (Front Row: Otis. Back, L to R: Nate, Tupelo, Atteeyah, and her mom, Denise.)