LIMITED-TIME-ONLY $10 DEAL
Save 83% when you become an All-Access Member of GreenPrints!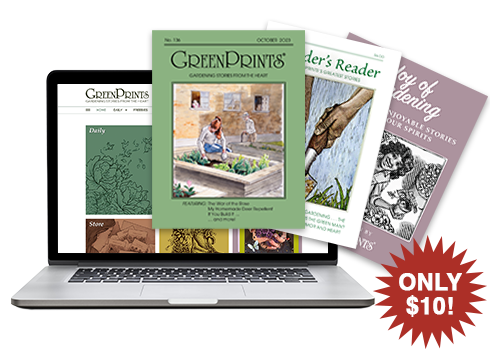 GreenPrints All-Access Membership Includes:
1-year GreenPrints Magazine Subscription: Monthly printable magazines, delivered digitally to your email inbox!
Digital Libraries: A full year of unlimited access to searchable online stories, topic-specific Collections, and the back-issue magazine library!
FREE Gift for You: Get the FREE bonus Special Issue, The Weeder's Reader, full access to the digital version containing 16 of the best stories ever published in GreenPrints!
400+ Uplifting and Inspiring Gardening Short Stories for You!
Get full and instant access to the best gardening stories from the heart online—only $10 for a full year. Includes Continuous Renewal Service*.
Save $20—17% Off—When You Choose Two Years Now!
Choose Your Membership Term:
Order Total: $98
GreenPrints Two-Year All-Access Membership
Your Information
Please provide your contact information. Fields with asterisk (*) are required.
First name is required and must be all letters.
Last name is required and must be all letters.
Valid email address is required.
Re-enter Email address.
Street address is required.
Country is required.
City is required and must be all letters.
Province/State is required.
Postal/Zip code is required.
Payment Information
We understand your email address is private. You will receive email and newsletters from GreenPrints. And remember you can unsubscribe at any time. Our Privacy Policy.