ILLUSTRATIONS BY LINDA COOK DEVONA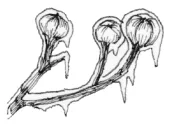 When winter with
One mighty blow
Whirls its white
Empire of snow
And chills the sky
To frosty gray,
Spring seems far
And far away.
But hidden
On a dogwood tree
With branches bare
And shivery,
Safe and silent
Winter through,
Spring is near
And near to you.
Buds wrapped in coats
Of frosty gray
Declare tomorrow's
Dogwood day,
Through winter's fierce
And icy sting
Each bud is full
And full of spring.
As winter howls
At ten below
Buds safely sleep
Through ice and snow
Like butterflies,
Each bud cocoon
In time will come
And come to bloom.