Description
SORRY! THIS CD IS SOLD OUT. UNAVAILABLE. YOU CAN STILL ORDER THE SECOND ONE, THOUGH.
Classic GP Stories, along with poems, quotes, and songs! 17 tracks in all!
That's right . . . for the first time ever, you can listen to GreenPrints! The GreenPrints A Bounty of FriendsCompanion (Vol. 1, "A Bounty of Friends") is a one-hour-long, 17-track(!) visit from GP creators Pat and Becky Stone, sharing some of the greatest-ever stories from the magazine.
You'll learn a little about our first day ever at "The Weeder's Digest" . . . hear Martine Caselli's hysterical tale of trying to control her spending at the garden center . . . cherish the moving story of a condo-trapped mother whose daughter ships her "A Box of Spring" . . . catch Jeff Taylor's outrageous attempt to convince two college kids that snails and zucchinis are related . . . . . . and much, much more, including poems, quotes—there's even 4 songs!
Priced at a very affordable $10 each, The GreenPrints Companion will be like inviting us into your home—and make a wonderful, heartwarming gift for relatives and friends, as well! Order your copies today!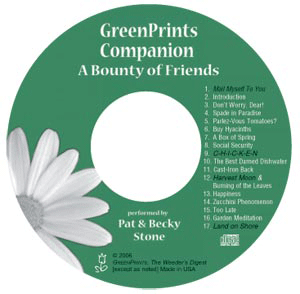 A Bounty of Friends CD
1. Mail Myself To You
2. Introduction
3. Don't Worry, Dear!
4. Spade in Paradise
5. Parlez-Vous Tomatoes?
6. Buy Hyacinths
7. A Box of Spring
8. Social Security
9. C-H-I-C-K-E-N
10. The Best Darned Dishwater
11. Cast-Iron Back
12. Burning of the Leaves
13. Happiness
14. Zucchini Phenomenon
15. Too Late
16. Garden Meditation
17. Land on Shore