Sadly, due to this acursed global pandemic, the Stone Clan cancelled our annual full-family beach reunion. But, as a surprising side effect, everyone made extra efforts to get together as best—and as safely—as we could.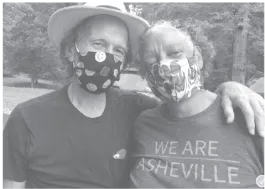 The gallery of photos here comes from backpacking trips (with Pooh Bear), hikes, paddles, an isolated lake retreat, and more. They show oldest son Nate and his two boys, Otis and Tupelo… The Arizona crew (Jesse, Adam, Jackson, Izzy, and foster kids Teagan and Memphis)… Sammy, Roger, and the youngest clan member, Wendell… Tucker, Laura, and their new puppy, Hugo… and, of course, yours truly and my truly.
You'll even see Becky ("I just love to stick my hands in the dirt") spontaneously weeding Sammy's front yard (with Wendell's help)' tired hikers napping—and Jackson and Izzy helping Papa do a GP issue mailing!