I think as gardeners we can all appreciate the idea of gardens as a place of healing. That can be quite literal when we grow herbs like peppermint that can help soothe an upset stomach, or so many of the delicious fresh vegetables that are packed with nutrients.
The idea of healing gardens may be both emotional and practical, too. I'm thinking here of plants like chamomile or lavender that can help calm us when we're stressed or anxious.
Of course, the benefits of gardening can also be largely psychological. There's just something about getting your hands into the soil that makes it seem like everything in the world will be okay.
For Margie Gray, however, gardening was little more than a dream for many years. In "Gardening on Wheels", she shares her story of life in a wheelchair and how gardening was always just beyond her reach, quite literally.
As she describes it, "My gardening was limited to flower pots and indoor plants for many years. But […] Flowers in pots just didn't feel the same. I wanted to grow things to eat!" I'll let Margie fill you in on the details about her love for gardening and how she was eventually able to grow the vegetables she had so long dreamed of.
It's worth pointing out, however, that if you want to garden, you can do it. As Margie points out, there may be challenges, but when things don't work, you just head "back to the drawing board!"
Enjoy More Gardening Stories About Healing Gardens
This story comes from our archive that spans over 30 years and includes more than 130 magazine issues of GreenPrints. Pieces like these that turn tales of healing gardens into everyday life lessons always brighten up my day, and I hope this story does for you as well. Enjoy!

Gardening on Wheels
A handicapped gardener gets her lifelong dream.
By Margie Gray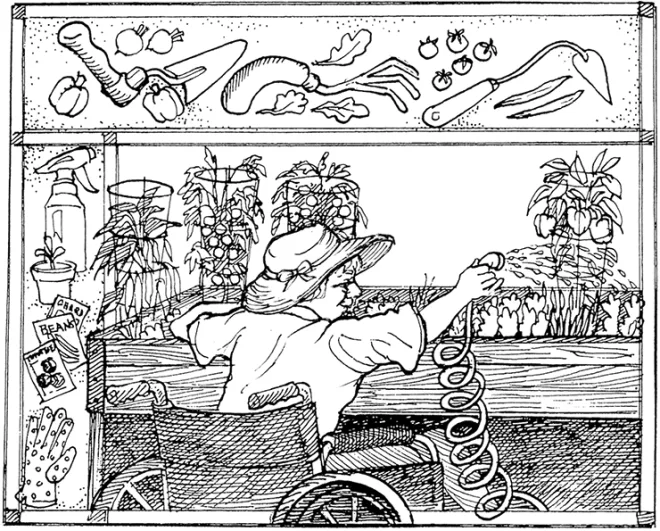 The first time I got interested in growing something I was 7 or 8. I saw my mom break a leaf off her philodendron and put it in water to start a new plant. I watched it diligently every day—and when it took root, I was fascinated! I went into the kitchen, emptied all the plastic ice cube trays from the freezer, and filled them with water. I proceeded to strip all of Mom's plants and put one leaf in each ice cube compartment. Boy, did I get in trouble. But a week later, Mom had about 40 new philodendrons!
I was disabled when I was very young. My spine is virtually rigid, so I cannot lean down to touch the ground. Consequently, my gardening was limited to flower pots and indoor plants for many years. But I had once helped my grandmother pick tomatoes, and I loved that. Flowers in pots just didn't feel the same. I wanted to grow things to eat!
When I got married, I wanted to plant a tomato in a pot on the deck. But my ever-practical husband pointed out that he had about 20 tomato plants, along with just about every other vegetable, in his huge garden, which was not accessible to me. Our house did have an L-shaped staircase in the front with a small elevated patch of ground I could reach. I tried to grow flowers there. But I couldn't get water to them, so they all died.
And that was pretty much it for my adult gardening career.
Jumping forward many years, I now use a wheelchair and live in a retirement community. My patio was accessible by wheelchair, but it was so bare! I came across a website for raised beds and was fascinated. I might be able to have my veggies yet!
I purchased a kit that was 8'x2'x1' deep, made out of cedar with metal corners and legs. We have a woodshop here where residents can do all kinds of crafts. Some of them put the kit together for me and delivered it to my patio. I was getting excited! Filling it with soil was actually the hardest part (it took a lot of dirt!), but a friend helped me get a good-quality potting soil and all-purpose fertilizer. I was off and running!
The staff at my local nursery became some of my best friends—we are literally on a first-name basis. I learned so much about plants and gardening from them. I even took the free classes they offered on different types of gardening.
I tend to experiment. If I'm not sure something will grow, I just give it a try and find out. I found some plants grew well, but are not practical for tending from a chair. Regular-sized tomatoes, pole beans, and pepper plants, for instance, grow amazingly well, but I can't reach their tops to harvest them. Cherry or patio tomatoes, bush beans, and pepper bushes work much better. Lettuce, spinach, chives, and green onions are also prolific in my little patio boxes—and I love picking fresh veggies for salads.
I was disappointed to discover that my raised beds were just not deep enough for root vegetables. So, back to the drawing board! My friends at the woodshop built me a wooden frame, 6'x2', with no bottom that sits on the ground. I filled it with potting soil—and this year will have carrots, potatoes, and onions!
One of the biggest challenges of being a gardener on wheels has been finding a watering hose I can manage from a chair. I first used a regular hose, but it was heavy and a nightmare for me to untangle. The "pocket" hose I saw advertised is supposed to retract automatically. It worked well and was light enough, but I rolled over it once while it was on—and it exploded! I now have a spiral hose. If I'm careful not to let it tangle when I put it away, it works OK. A short wand on the end works great. The longer ones are unwieldy. I end up with me and my chair soaked!
I also like trowels and rakes with padded handles. Working the soil while seated can be awkward, and these handles are easy to grasp and don't slip. And tomato cages are my best friends! They are good to support peppers and bush beans, too.
The advantages of raised beds are enormous. For one thing, rabbits can't get in! Squirrels can, but I have been amazed that they don't bother my plants…at least (cross my fingers) not yet! I was afraid deer would think I'd put out a buffet for them, but (fingers crossed again) I have only had one incident of them eating anything. And weeds rarely grow.
Disadvantage? The dirt that gets in my lap when I get sloppy with digging!
Now I have three beds for veggies and one for flowers. Each Summer I raise enough for me to eat, along with some to freeze and extra to give my neighbors.
And you know what? Digging in the dirt really is just as therapeutic as I imagined for all those many years! ❖
By Margie Gray, published originally in 2020, in GreenPrints Issue #123. Illustrated by Linda Cook Devona

Do you have stories of overcoming challenges to grow the garden of your dreams? I'd love to hear about your experience in the comments.