ILLUSTRATIONS BY RUSSELL THORNTON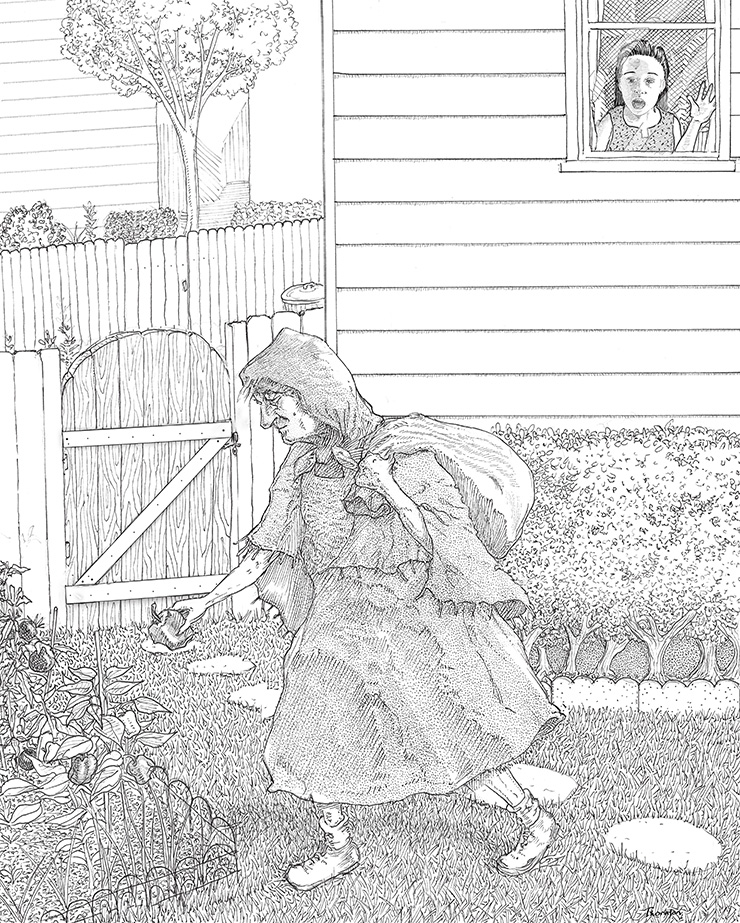 IIn Spring, Summer, and early Fall, half of the yard behind our small bungalow on Detroit's East Side was a vegetable garden. I often sat at the foot of my bed looking out the small window that faced the yard. There was an alley behind the yard, a good place to hide until Billy Brown told that scary story about the strange things that lived in the alley and came up out of holes looking for children to gobble up. (Ten years old, I knew better—but why take chances?) The one and only time I hid in the alley was the one and only day I skipped school and the one and only time I smoked a cigarette with Inge. Mrs. Peepers (yes, her real name) peeped and squealed. I didn't like cigarettes, anyway, but I missed fifth-period choir, which I was forced to drop.
She was picking our vegetables and putting them in her sack. Our tomatoes and our peppers.
In the growing season, Mom was in that garden for hours nearly every day, digging around the tomatoes, peppers, onions, and eggplants with her bare hands. Some years she planted potatoes, which we dug up in the Fall and roasted in a bonfire of dry plants, leaves, and sticks. When Mom wasn't in the garden, she was cleaning the house or ironing. She did the ironing in the basement, and I knew when she was ironing down there because that was the only time she listened to the radio. Her favorite tune was Cherry Pink and Apple Blossom White. (Sorry I've gotten off track—somehow whenever I write about the garden, I end up writing about my mother, too.)
By July, we began to harvest the garden produce that Mom chopped into lush salads and cooked into rich tomato sauce that went over pasta, breaded eggplant layered with cheese, green beans sautéed with olive oil and garlic, stuffed bell peppers, and more. Vieni e Mangia. (Come and Eat.)
One late Summer morning while the house was quiet—even before my father left for his early shift at the bakery—I heard the dull clink of metal on metal coming from the the back gate. I tiptoed to my window and parted the eyelet curtains just enough to see out. There, standing between the carefully tended rows of tomatoes and peppers, was a spectre, someone or something in the garden. My heart did a tap dance until the spectre clarified into an old woman—an old woman in a long, tattered black skirt, black shawl, and a black headscarf.
As she moved into the next row, she turned towards me, close enough to reveal her face, a face that was all shadow and bone. She had a large gunny sack draped over her left shoulder and was picking our vegetables and putting them in her sack. Our tomatoes and our peppers. She even pulled out a few scallions and put them in the sack, too.
At first I was mesmerized. Then I grew angry. The distant thunder and gray clouds that were moving in seemed to agree with my mood. I was just about to knock on the window and scream for my parents when she hobbled out of the garden and out through the back gate into the alley.
I took note that she turned in the direction of Longview Street, in case Perry Mason might come to question us once we reported the theft. But I was ashamed that I didn't act fast enough and yell for my parents immediately.
Soon I heard the deep gurgle of the coffee percolator and knew Mom was up. I walked into the kitchen to confess.
"Sit down," she said, "your breakfast is almost ready."
"Mom, I have something to tell you." Those words always got her attention. She stopped and searched my face for clues.
"Don't worry, I didn't do anything wrong," I assured her.
"But I saw a thief in our garden—an old woman dressed all in black like a witch. She filled a sack with our tomatoes, cucumbers, and peppers. She even pulled up a few scallions. I think the threat of rain scared her off."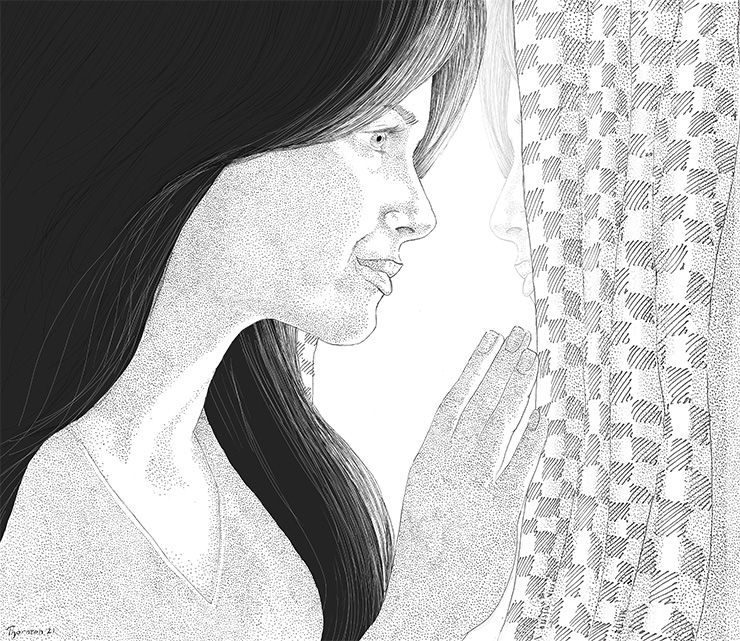 Mom's worried look was replaced by an amused smile. "So you saw a thief, Madonna Mia," she said calmly.
"Do you know who she is?" I asked, confused.
"No, but she comes every year, usually before the sun is up. If I happen to see her in the garden, I smile and wave." ❖